More articles Monday 17 August 2015 10:25am
Author Matt Haig talks of the importance of reading and writing in maintaining mental health at the Book Festival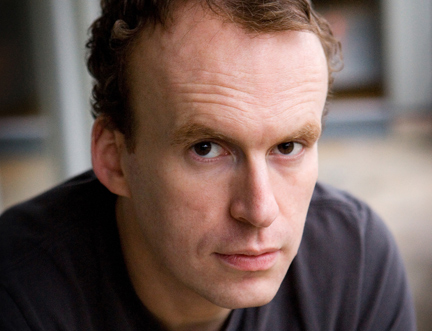 The author Matt Haig spoke in front of a packed Book Festival audience about the importance of reading and writing in maintaining mental health and its role in helping him conquer depression, as part of our Staying Well strand of events.
Delivering the Siobhan Dowd Trust Memorial Lecture, Matt said that books were "necessities" and that in his own experience, literally life-sustaining. He related how, at the age of 24, he had suffered a breakdown, followed by depression and suicidal thoughts. Moving home to his parents, Matt said that he used the books he had read as a teenager to help rediscover his concentration and distract himself from his own distress, before leading him on to writing. He captured his experience of depression and recovery in his latest book Reasons To Stay Alive.
"Books can save your life," he said. "I don't mean that in a vague airy-fairy way, either, or just to enrich your life or help you impress your friends, though they can. I mean that books can actually help keep you alive." Matt said that what he perceived as an institutional pressure to encourage children away from the arts and literature towards only the subjects that can help them get jobs was wrong. "I strongly believe that books should not just be valued as things that can help you get a job," he said. "They are so much bigger than that."
He added: "People don't just read books for escape. We read to find new paths for ourselves. We think we are in this one room house. Books help us realise we are in a mansion. Reading is a way to find the lost parts of us. To know what's there. What you have. To work out how far you can dream."
Stressing how reading can help people to become "better, more empathetic human beings", Matt said that this was why it was so important not to put young people off books. Highlighting the increasing incidence of mental illness among under-18s, he said that reading had been shown to have a positive effect on sufferers by lowering stress levels and raising a sense of well-being and a sense of belonging, saying "Books connect us to the world. They aren't an alternative to friends, but they can be friends in and of themselves."
He added that in a time when young people are being forced to be increasingly body conscious, "books remind us that our physical selves matter little next to our minds. It is in our minds that we can truly be free."
More articles