More articles Monday 05 November 2012 10:30am
Azazeel wins Anobii First Book Award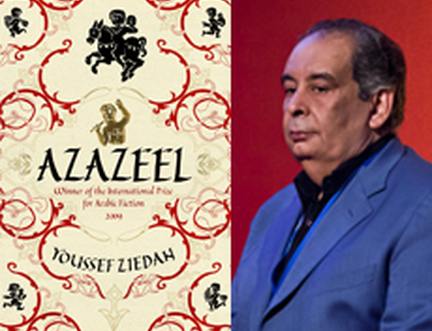 Youssef Ziedan's novel Azazeel is the winner of this year's Anobii First Book Award. Now in its third year, the award celebrates the wealth of new writing in the Edinburgh International Book Festival programme by giving audiences and readers the chance to discover debut writers and vote for their favourite to win.
This year there were 46 titles eligible for the award, each one a novel, novella or short story collection from a debut writer or a first work published in English.
The winner was chosen by votes placed online and via the ballot box in Charlotte Square Gardens during the Book Festival. Almost 3000 votes were received in total, from over 50 countries, and nearly 20% were for Azazeel, making it the clear winner.
Set in the 5th century AD, Azazeel is an exquisitely crafted story following Hypa, a Coptic monk, on his journey from Upper Egypt to Alexandria and then Syria during a time of massive upheaval in the early Church. It explores a magnificent array of ideas about religion, spirituality and humanity which cleverly comment on our contemporary world. Many readers who voted for the book described it as being 'amazing' and 'the best book I've ever read'.
Azazeel won the International Prize for Arabic Fiction in 2009 and is the first of Ziedan's novels to be published in English, and the first translation to win the Anobii First Book Award.
Edinburgh International Book Festival Director, Nick Barley, said 'I am particularly pleased that an international author has won this year – Youssef Ziedan's Azazeel has been a major talking point in Egypt, and now it has become a worthy winner of this international literary award.'
A spokesperson from Atlantic Books, who publish Azazeel in the UK, said 'We're thrilled that so many readers voted for Azazeel, the first of Youssef Ziedan's novels to be published in the UK, to win the Anobii First Book Award. Following on from his fantastic event at the Book Festival this August, this is more great news from Edinburgh.'
To celebrate the Anobii First Book Award, a special one-off event featuring some of the shortlisted authors will take place at Summerhall in Edinburgh on Thurs 29 November, as part of the inaugural Book Week Scotland. Further details about the event and how to book are available on the Book Festival website.
More articles