More articles Monday 27 February 2017 11:00am
Book Festival announces new festival ReimagiNation: Cumbernauld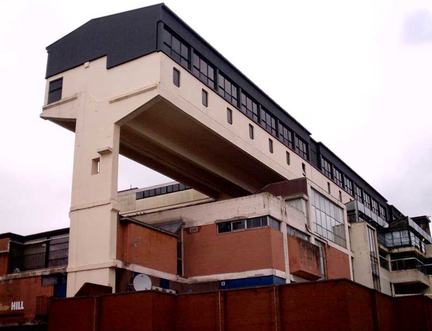 We're excited to announce a new initiative bringing together writers, artists and theatre makers with the population of Cumbernauld. ReimagiNation: Cumbernauld, part of our Booked! programme of events which is supported by players of the People's Postcode Lottery, aims to capture the stories of the people living in and around Cumbernauld, one of Scotland's original New Towns, and will culminate in a three-day festival in the town in the spring.
ReimagiNation is part of our new five stop tour of the Scottish New Towns, marking 70 years since the passing of the Scottish New Towns Act. It is also 70 years since Edinburgh was designated a Festival City, with both actions taken in response to the destruction and social upheaval created by the Second World War.
ReimagiNation: Cumbernauld culminates in a festival taking over the Town Centre and other nearby venues for three days from 19 – 21 May 2017. Full programme details will be revealed in April, but visitors will be able to meet adult and children's authors in entertaining events, explore the stories of Cumbernauld and join in discussions on the future of the town amid a range of other fun, free creative experiences. Theatre maker Ishbel McFarlane will offer open sessions of her new performance piece Plan, an interactive exercise where everyone can design and build a settlement for displaced people – effectively recreating Cumbernauld for the 21st century.
ReimagiNation: Cumbernauld kicks off in March with two residency projects in the town: social historian and writer Daniel Gray links with users of CACE Older People Active Lives; and children's author Mike Nicholson works with P5 and P6 pupils at Kildrum, St Mary's, Carbrain and St Margaret of Scotland Primary Schools. Both groups' experiences of Ishbel McFarlane's Plan will help them develop fresh stories together, reimagining their home town in exciting and poignant new ways. The stories and conversations from both these residencies will feed into the ReimagiNation: Cumbernauld festival in May.
For up-to-date information about ReimagiNation: Cumbernauld, including regular residency updates and programme information, please visit booked.edbookfest.co.uk
ReimagiNation rolls on to East Kilbride and Irvine in August, where authors from the Book Festival will travel from the capital to meet new readers. In 2018 the tour continues to Glenrothes and Livingston.
ReimagiNation is part of Booked!, the Edinburgh International Book Festival on the road around Scotland throughout the year, supported by players of People's Postcode Lottery, and in Cumbernauld is produced in partnership with Culture NL.
More articles