More articles Thursday 02 May 2019 11:00am
Book Festival's Children and Education Programme Director to Step Down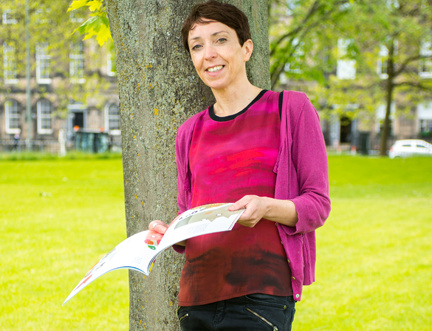 Following a highly successful 8-year tenure at the Book Festival, Janet Smyth is to leave her role as Children and Education Programme Director at the beginning of July to take up a new role in the city.
Janet departs the Book Festival having made a significant impact on the conception and delivery of yearly activity, enhancing the national and international profile of the children's and young people, schools and lifelong learning programmes. She has been instrumental in ensuring the Festival responds to the interests and needs of all ages of young people, working tirelessly to broaden the scope of the Baillie Gifford Children's and Schools' Programmes, which in recent years have seen debates and clinics on dyslexia, events on mental health and Wellcome Trust funded research projects on the impact of the arts on wellbeing. In 2018, over 13,000 school pupils and 21,000 children and families visited the Book Festival in August and children's book titles have featured heavily in the top 10 bestselling books in the Book Festival's independent bookshops.
Janet has championed the work of international authors and illustrators such as the French graphic novelist Barroux and Iranian illustrators Ehsan Abdollahi and Marjan Vafaeian. She has overseen headline-making events such as Malala Yousafzai's session introduced by J K Rowling and visits from a string of star names including Malorie Blackman, Philip Pullman, Neil Gaiman, Angie Thomas, Michael Morpurgo and Chelsea Clinton.
Janet's work in making the Book Festival accessible to new audiences has included playing a leading role in the creation and success of a groundbreaking long-term engagement project, Edinburgh International Book Festival On The Road, which has delivered mini-festivals in the Scottish New Towns of Cumbernauld, Glenrothes and Irvine as well as a new partnership with communities in Edinburgh called Citizen.
Book Festival Director Nick Barley said: "It has been an incredible experience working with Janet since she joined us in 2011: her enthusiasm and passion for bringing books and ideas to new audiences is nothing short of inspirational. She has constantly challenged everyone at the Book Festival to be more creative and imaginative in our approaches. The impact she has made on Scottish literature has been simply immense."
Allan Little, Chair of the Book Festival Trustees said: "When I joined the board I had no idea of the scope and diversity of the activity Janet leads. But it's hard for me to express how moved I've been by what she and her team do to plant the seed in young hearts – a love of literature that can be truly transformative."
Janet commented: "I have had an incredible 8 years at the Book Festival – no year has ever been the same! I am immensely proud to have had the opportunity to share so many writers, illustrators, performers and artists with our incredibly engaged and passionate audiences; to share a love of books and celebrate the importance of culture in our lives. I leave with a heavy heart and many friendships but look forward to the next creative opportunity."
More articles