More articles Tuesday 20 May 2014 2:30pm
Book Festival teams up with Grid Iron to bring Letters Home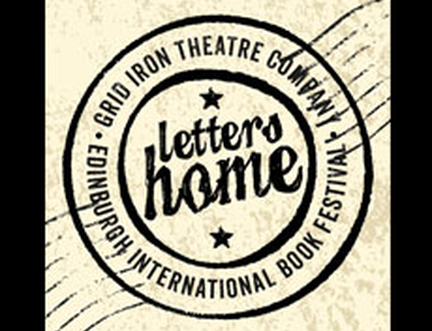 This year's Edinburgh International Book Festival is set to feature an ambitious series of events created in a collaborative partnership with multi award-winning theatre company Grid Iron.
Letters Home will see four short pieces commissioned by the Book Festival transformed into a promenade theatre production in and around Charlotte Square Gardens. The pieces, which have been written as fictional letters between characters and reflect themes of identity and home, have been penned by internationally acclaimed writers, each of whom offers their own perspective on what 'home' can mean.
Writing for the project are Chimamanda Ngozi Adichie from Nigeria who is the bestselling author of the Orange Prize-winning Half of a Yellow Sun; Kei Miller, the acclaimed Glasgow-based Jamaican poet who is an expert in Caribbean epistolary fiction; Kamila Shamsie, the brilliant Pakistani-British author who was one of Granta's Best of Young British Novelists in 2013; and Christos Tsiolkas, Australian author of the bestselling novel The Slap, whose family emigrated from Greece.
Each of the four pieces combine to create a stunningly moving evocation of dialogue as it has shaped relationships all over the world, and throughout the history of humankind.
The written pieces will be transformed into a verbal, visual and musical journey in and around Charlotte Square Gardens by directors Ben Harrison, Joe Douglas, Michael John McCarthy and Alice Nelson, co-ordinating director Zinnie Harris, designer Becky Minto, lighting designer Colin Grenfell and composer Philip Pinsky,
Nick Barley, director of the Book Festival, said 'This is an ambitious project and we are thrilled to be working with four visionary writers and their exciting interpretations of our brief and with Grid Iron who have created an extraordinary piece of theatre which will premiere at the Book Festival in August. The result is surprising, compelling, and at times very moving.'
Judith Doherty, co-artistic director of Grid Iron, said 'Grid Iron are first and foremost a new writing company, it is at the heart of everything we do, so to be working alongside Edinburgh International Book Festival and the four extraordinary writers they have commissioned for us is truly a privilege.'
Letters Home, which is supported by the Scottish Government's Edinburgh Festivals Expo Fund, will take place in and around Charlotte Square Gardens between 9-25 August.
Tickets will be available from the Edinburgh Festival Fringe Box Office from Thursday 5 June and from the Edinburgh International Book Festival from Thursday 24 June.
More articles