More articles Thursday 09 September 2010 11:17am
Booktrust Teenage Prize shortlist announced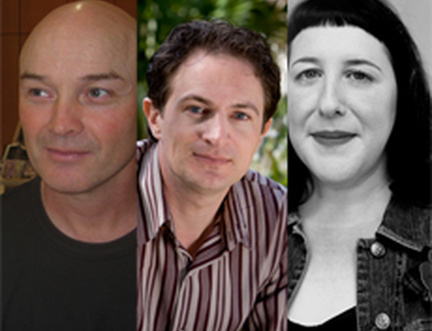 The 2010 Book Festival RBS Children's Programme welcomed many terrific children's authors, including Sarra Manning, Marcus Sedgwick and Gregory Hughes, whose names were yesterday announced on the Booktrust Teenage Prize 2010 shortlist.
One of the few awards featuring books for teenage readers, the Booktrust Teenage Prize has revealed its shortlist for 2010. The Enemy by Charlie Higson, Halo by Zizou Corder, Nobody's Girl by Sarra Manning, Out of Shadows by Jason Wallace, Revolver by Marcus Sedgwick and Unhooking the Moon by Gregory Hughes.
Tony Bradman, the chair of judges, remarked:
"By the time my fellow judges and I had come up with a shortlist for this year's Booktrust Teenage Prize I was in no doubt that contemporary teenagers are pretty spoiled for choice when it comes to reading. The standard of entries was incredibly high, and whittling that down to just six was a tough but fantastically enjoyable job. What's particularly exciting about it is the sheer variety of approaches. I can't think of another literary prize that could so easily include in its shortlist both a story about children trying to survive against a horde of rampaging adults, and a portrait of Mugabe's Zimbabwe. Taken together, these six books are a real tribute to the standard and ambition of writing and publishing for teenagers today."
Last month the inspiring Sarra Manning, the otherworldly Marcus Sedgwick and the gifted Gregory Hughes delighted young audiences at the Book Festival, and now we wish this talented trio the best of luck for the Booktrust Teenage Prize, which will be announced on 1 November.
More articles