More articles Monday 15 August 2016 5:00pm
Chris Packham on Ambition, Motivation and Dealing with his Demons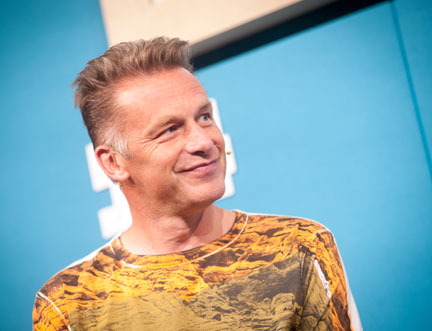 Star of BBC's Springwatch Chris Packham enthralled audiences at the Book Festival yesterday with an incredibly frank and fascinating discussion on the natural world and his own life. From his thoughts on animal culls and the "dynamic harmony" of the ecosystem to his lifelong experience of autism and struggles with suicide, the naturalist turned TV star spoke with passion and honesty about his past, his ambitions and motivations, and his difficulties in life.
"Nothing is more dissatisfying than realising your dreams", Packham said candidly, setting the tone for an insightful evening. Describing the bloody side of animal life as 'violent and visceral, but beautiful almost beyond comprehension," Packham was at ease exploring the grittier, darker sides of life - including his own.
A troubled and lonely childhood was followed by an adult life made difficult by his struggles to form personal relationships with other people; something he has always found easier with animals. "There's a purity in relationships with animals which I haven't found with humans", said Packham, agreeing with chairperson and self-confessed 'groupie' Ruth Wishart that he would be difficult to live with.
His experience of love and loss with animals has, he said, helped him better relate to other humans, and accept death as a natural, if devastating, part of life. His book Fingers in the Sparkle Jar recounts a childhood friendship with a beloved kestrel, the death of which was 'catastrophic'. However, discussing his pet dogs, whom he says he loves just as totally as the kestrel and who 'saved' his life during a dark period, Packham was clear - "you must generate that [love] again", even if future loss is inevitable.
One experienced audience member, a veterinary surgeon, challenged a chuckling Packham on his belief that animals, especially when wounded, don't lie. "Unlike Mr Botham," jabbing at the cricket star with whom he has recently been involved in a bitter public spat over grouse shooting, "I'd never argue with an expert." The audience were very clearly in the presence of one here.
More articles