More articles Sunday 23 August 2020 3:15pm
Democracy Activist Calls for Hong Kong Voices to be Heard Around the World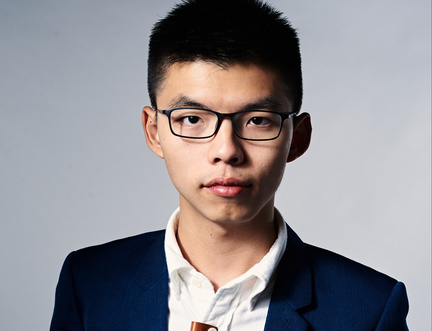 23 year old Hong Kong democracy activist Joshua Wong called for the voices of Hong Kongers to be heard around the world in a live conversation at the Edinburgh International Book Festival online this afternoon.
Talking with Sophie Richardson, China Director of Human Rights Watch, Wong admitted that only two hours before starting their conversation he had been tailed by an unmarked car with Hong Kong Chinese number plates, and that this was now part of his life.
Admitting that even participating in this Online Book Festival event might be viewed as a crime under the recently imposed National Security Law, and could result in his arrest tomorrow, Wong warned that what the people of Hong Kong were experiencing today could be experienced by people in the free world in the future. He said that China was the largest authoritarian regime in the world and was expanding its influence not only across the Asian Pacific region, but also across Africa and further afield.
He was however encouraged by the activism of young people in Hong Kong, saying that democracy campaigns around the world had previously been led by human rights lawyers or people aged over 25 but over the last decade younger people, including High School students, had become engaged – now the generations are working together to affect change, but that takes courage. He explained that harassment, surveillance, being stalked or tailed by pro-Beijing agents is no longer news in Hong Kong, adding "I still believe democracy does not come with compromise or how to kowtow to the regime, democracy will come with spirit of resistance. Even if Hong Kong is not Hong Kong anymore but with the spirit of Hong Kongers we still go forward in this uphill battle."
He called for the international community not just to see Hong Kong as a political and economic entity but a community with a unique identity and to recognise the bravery and courage of the people in the city. The main goal for the Hong Kong democracy movement was to maximise the global support for the protests. "Supporting Hong Kong should not be a matter of left or right, only a matter of right or wrong."
He closed by saying "It is hard for me to imagine or predict what will be my future and destiny, and every day I sleep I also need to worry about will the government come to arrest me immediately on the day after, storming into my house at 5.00am in the morning like they did in July."
"If I have time to write a new book I'm not sure whether I'll write it in Hong Kong or maybe inside of prison, but no matter what happens I hope we choose not to kowtow to China and choose to engage in youth activism, to encourage more youngsters and millennials around the world to realise that millennials are not just about Snapchat, Instagram, having selfies... it's also about having the spirit to fight for justice. That's what I try to do. My book is named Unfree Speech, I hope that Hong Kong one day becomes the place of freedom and democracy and I can write a book called Free Speech."
Joshua Wong's conversation with Sophie Richardson is available to watch on demand now on our website: https://www.edbookfest.co.uk/the-festival/whats-on/joshua-wong-hong-kong-s-champion-for-democracy/player
More articles