More articles Wednesday 22 August 2018 3:00pm
Doing Strictly 'completely changed the way I look at me', says Susan Calman at the Book Festival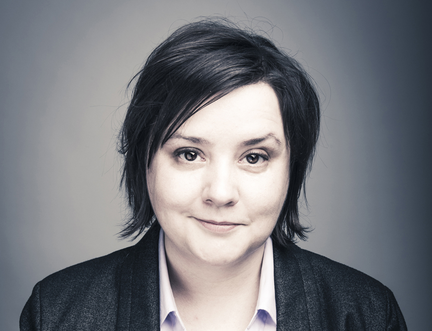 Appearing on Strictly Come Dancing completely changed the way she viewed herself, according to Susan Calman. The popular broadcaster, comedian and – as seen on Saturday nights last year – nifty ballroom dancer was speaking today with the journalist Lee Randall at a sold out event at the Book Festival.
Calman was speaking about her new book, Sunny Side Up: A Story of Kindness and Joy, which was exclusively available at the Book Festival before its official publication in September. 'Strangely enough, writing my first book, Cheer Up, Love, changed me because I realised I had missed out on a lot of life by being depressed and it kind of helped me to say: well, why not try and find a little more joy, a bit more happiness in life?
'My kind of depression doesn't go away, but I think analysing and writing about it helped.' However, being kinder to yourself is 'really tough'. 'Generally, I'm very hard on myself,' she said. 'Most people are. I know very few people who wake up in the morning and go: 'I am amazing!' Most people see negativity, so being kind to myself is actually the most difficult part of it.'
This was a very slow, incremental process, but the most important element was her decision to accept an invitation to appear on Strictly.
'You know a lot of people watch it, so I thought: if I go out here and hate myself (a) it'll come through to the audience, and (b) it's a once in a lifetime opportunity and I have to embrace this. So I started to be kinder to myself as a result. It was tough, but I did it.'
Appearing on Strictly genuinely changed her view of herself. 'I was frightened of people laughing at me for being feminine,' she said. 'Strictly actually has completely changed the way I look at me, and how I am. For starters I started looking in mirrors, which I never did before.
'I thought that if I wore a dress I would look horrific, I would look stupid. When you see yourself and think: 'This is not awful'—well for me, that's a huge step. I've completely changed what I wear. Actually now, you know what? I can wear a dress. It's still weird, but I think letting myself go and saying I can do this, means I can actually be who I want to be and not be actually frightened of it.'
On more than one occasion, the 'emotional' Calman was close to tears, not least when talking about her dance partner Kevin Clifton. 'The physical connection and mental connection is incredible. I think dancing with Kevin is the most joyous thing I've ever done in my life. Absolutely. I never thought I could feel that happy. When we did the quick step, it was like a biblical moment of joy.'
Returning to her new book, Calman stated that the bottom line was that whatever brings you joy, should bring you joy. 'I hate intellectual snobbery. If something brings you joy – apart from taking joy in other people failing – just go for it. We can ignore the people who say we're all horrible, racist and nasty. We're not; let's do it ourselves and sod the lot of them.'
More articles