More articles Tuesday 31 July 2018 2:00pm
Edinburgh International Book Festival & Gutter Magazine Launch The Freedom Papers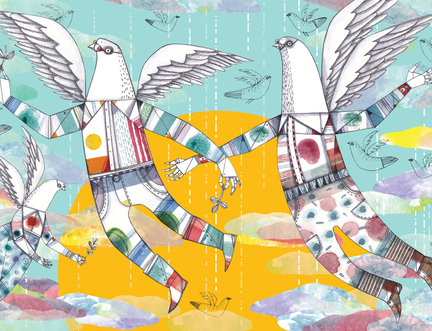 Today, the Book Festival and Gutter Magazine launched The Freedom Papers, a 164 page supplement available with the August issue of Gutter, featuring specially commissioned writing from 51 authors from around the world each exploring their own unique interpretation of Freedom.
In this major initiative, supported by the Scottish Government's Edinburgh Festivals Expo Fund through Creative Scotland, we have commissioned authors from 25 countries (including 13 from Scotland) to write essays exploring ideas about freedom. The Freedom Papers examine LGBTQ+, race, religion, immigration, disability, education and technology. Eight are in languages other than English, some are polemic, some are fictional narratives, some are poems and two are illustrations – including one from Iranian illustrator Ehsan Abdollahi. Abdollahi was refused a visa to attend the Book Festival in 2017 and only after a campaign led by his publisher together with the Book Festival and supported by the publishing industry, councillors and politicians was this decision overturned.
Director of the Book Festival, Nick Barley said "It has been a joy to forge a stronger partnership with Gutter and to support this new chapter in the magazine's existence. The Gutter team has turned The Freedom Papers idea into a beautiful but urgent document, and I hope we are returning the favour by helping this vital Scottish literary magazine reach new international audiences. I'm also proud that the Book Festival commissioning team – including our inspiring group of Year of Young People co-programmers - has been able to draw on a worldwide literary network to commission these essays. Together they demonstrate starkly that 'freedom' is an important but highly contested issue, no matter where in the world you happen to live."
Many of the commissioned authors will be appearing at the Book Festival this summer including H J Golakai from Liberia, Iraqi writer Shahad Al Rawi, Australian Bruce Pascoe, Yaba Badoe from Ghana and Scotland's own Aminatta Forna. Some will read their essays at the start of their events, others will dedicate the whole of a special Ten at Ten event to their paper, all will be accompanied by a specially composed piece of music. Five of the essays have been commissioned by the Year of Young People Co-Programmers and include texts from Paralympian Ade Adepitan, Cat Clarke and the young Jordanian writer Joud Al-Mabaydin.
Gutter is an award-winning, printed journal for fiction and poetry, showcasing writers living in Scotland and around the world. The editors believe there is a need for an energetic, ambitious magazine dedicated to the best in new Scottish and international writing.
Henry Bell, Editor of Gutter, said "The Freedom Papers have been a thrilling opportunity to explore writers and ideas from around the world and bring them together with Gutter Magazine. Since re-launching as an independent cooperative, Gutter has been committed to publishing the best new Scottish and International writing and looking for work that bursts the boundaries of politics, style and form. This collaboration with the Edinburgh International Book Festival has been a wonderful vote of confidence in that vision and we're extremely excited to share Gutter 18 + The Freedom Papers with you."
Culture Secretary Fiona Hyslop said: "The Freedom Papers are an excellent opportunity to showcase some of the best new Scottish and international writing, bringing together ideas and contributions from writers all over the world and pushing the boundaries on some of the most current and controversial topics. With its focus on freedom and its wide-ranging offer of compelling talks and events, the 2018 Edinburgh International Book Festival is sure to stimulate debate and intrigue audiences, raising Scotland's cultural profile on the international stage. I am proud that over the last 10 years the Scottish Government has provided over £1.1 million to the Book Festival through our Festivals Expo Fund, enabling our culture sector to thrive and allowing Scotland's talented artists and companies make international connections."
The Book Festival's celebration of The Freedom Papers will culminate on Monday 27 August with the Freedom Finale, a very special event featuring readings of a number of the papers in a narrative steered by Gavin Francis and Esa Aldegheri. They will be accompanied by a live performance of the musical score, specially commissioned to accompany the papers, by composer Danny Krass and bassist Seth Bennett, Luke Sutherland, novelist, playwright and guitarist formerly of Mogwai, violinist Gavin Marwick, Ghanian-born percussionist Gameli Tordzro and a pre-recorded performance from Muthoni Drummer Queen from Kenya with readings from actors Collete Dalal Tchantcho and Joanna Tope.
Five of the Freedom Papers will be featured on BBC Radio 4 from Monday 20 August at 9.45am every day repeated at 12.30am and broadcast as an omnibus at 9.00am on Sunday on Radio 4 extra, with readings from Carmen Maria Machado, Yan Lianke, Nicola Davies, Sandip Roy, Gavin Francis and Esa Aldegheri.
Gutter Magazine, together with The Freedom Papers supplement, will be on sale in the Edinburgh International Book Festival's Bookshops on George Street from Saturday 4 August and in Charlotte Square Gardens from Saturday 11 August.
More articles