More articles Monday 25 August 2014 9:30pm
Edinburgh International Book Festival wraps up 17 days of dialogue, discussion and debate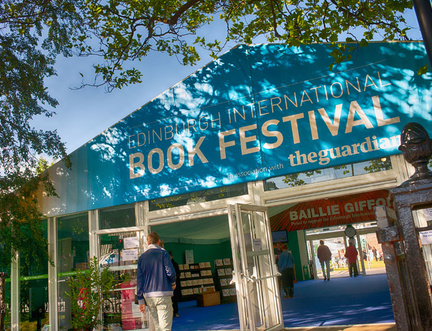 The Edinburgh International Book Festival finished the public programme of events today with sold out appearances from Nobel Prize winning economist Joseph Stiglitz, Rory MacLean, John Lanchester, Stefan Kornelius, Sarah Waters who launched her new novel and Pakistani schoolgirl and education activist Malala Yousafzai who spoke to a packed audience of Scottish high school pupils, introduced by J. K. Rowling.
Over the last 17 days, the Book Festival has welcomed over 800 authors from 47 countries taking part in almost 800 events including Haruki Murakami who launched the English edition of his new book in a rare public appearance, Game of Thrones author George R R Martin, Man Booker International Prize Winner Lydia Davis, Diana Gabaldon, musicians Gruff Rhys and Julian Cope and 47 authors who brought their debut novels to the Festival. Simon Armitage, Susan Greenfield, Martin Amis, Esther Freud, Alan Warner, Rowan Williams, Will Self and Amy Bloom all launched their brand new books. Jim Crace and Hermione Lee were announced as the winners of the University of Edinburgh's James Tait Black Prizes and Niall Campbell as the winner of the first Edwin Morgan Poetry Award for Scottish poets aged 30 or under, the largest poetry prize in the UK.

Nick Barley, Director of the Edinburgh International Book Festival, said 'This has been a breathtakingly vibrant year for the Book Festival. The atmosphere among audiences has ranged from exuberant to deeply thoughtful, with a real sense that Scotland is on the cusp of an epoch-defining decision. True to the spirit of dialogue that ran through this year's programme, authors and audiences alike engaged in conversations that were intelligent and often incredibly perceptive. Public democracy is alive and kicking in Charlotte Square Gardens.'

A series of events discussing Scotland's Future featured First Minister Alex Salmond and former Prime Minister Gordon Brown, as well as Sir Tom Devine, Linda Colley, Henry McLeish and James Robertson. Palestinian lawyer Raja Shehadeh curated discussions on the past, present and future of the Middle East with authors from Iran, Iraq, Syria, Turkey and Egypt.
Letters Home, the Book Festival's ambitious partnership with theatre company Grid Iron, which was supported by the Scottish Government's Edinburgh Festival's Expo Fund, won a Fringe First Award and tickets sold out for every performance. The Book Festival also launched its own graphic novel, IDP:2043, a collaboration between six teams of authors and illustrators including Irvine Welsh, Hanna Berry, Mary Talbot and Pat Mills with story editor Denise Mina.
Working with Durham University's Hearing the Voice Project, and with the support of the Wellcome Trust, the Book Festival has heard from authors, scientists and voice hearers. Conversations with Ourselves has explored inner monologues and imaginary friends, as well as the demanding character voices that novelists create and has taken a closer look at the medical, historical, spiritual, anthropological and literary aspects of voice hearing. The final event in the series saw the legendary US storytelling organisation, The Moth, stage an evening with stories from pharmacist Navreet Chawla, clinical psychologist Rufus May and winner of the Wellcome Book Prize, author Andrew Solomon.
47 debut novels and short story collections were featured in the 2014 Book Festival programme, including authors with books translated in the English for the first time, from as far afield as Brazil, Austria, Kuwait, USA and India. Readers and visitors to the Book Festival are invited to vote for their favourite through the Book Festival website until Friday 17 October – https://www.edbookfest.co.uk/the-festival/first-book-award

The Book Festival's late night Jura Unbound events included poets from Syria, music from James Yorkston and The Pictish Trail, songs and stories from novelists Willy Vlautin, Michael Pitre and a fine piece of harmonica playing from Joseph Boyden and a riotous evening of competitive poetry with Page Match.
The popular Baillie Gifford Children's and Schools Programmes welcomed stories from Mackenzie Crook, Julia Donaldson, Francesca Simon, Michael Morpurgo and Michael Rosen. Patrick Ness delivered the inaugural Siobhan Dowd Memorial Trust lecture, Children's Laureate Malorie Blackman explored human rights in fiction, Gill Arbuthnot extracted DNA live on stage and 15 children's teddies enjoyed night time adventures and a sleepover in Charlotte Square Gardens. Almost 13,000 school children from primary and high schools across Scotland and the north of England have enjoyed events in the Gardens, and the Book Festival has taken authors to 40 schools, libraries and theatres to reach pupils who were unable to come to Edinburgh.
With around 225,000 visits this August Charlotte Square was busy with visitors attending events, visiting the Bookshops and cafes and relaxing in the Gardens. Ticket sales in 2014 matched last year's record breaking figures (which were up 6% on the previous year) and book sales also equalled last year's record high.
The 2015 Edinburgh International Book Festival will take place from Saturday 15 to Monday 31 August and the programme will be announced in June.

More articles