More articles Saturday 17 August 2013 10:00pm
Edinburgh World Writers' Conference returns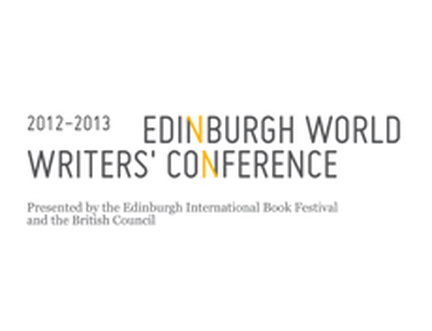 After a year of debates across the globe the Edinburgh World Writers' Conference came home today to the Edinburgh International Book Festival with a debate on the future of the novel featuring writers Hari Kunzru, China Miéville and Sema Kaygusuz. The prompt for the discussion came from a metaphor of Miéville's at a previous World Writers' Conference event in which he said the novel as an art form remains as 'tenacious as a cockroach'.
Chair Susanna Nicklin began by asking Kaygusuz to talk about the particular challenges for a Turkish writer, and she responded that it was only after Occupy Gezi that she came to see the country as her homeland. 'It may take some time,' she continued, 'but in a few years the fruits of the protests will ferment into the wine of literature.' Kunzru joined the discussion, making the link to his novella Memory Palace, set in an post-apocalyptic London 2000 years into the future, which was the basis for a V&A exhibition. 'Writing about apocalypse, the decay of language and physical decay together, interests me because it's essentially utopian. It's about re-imagining and recreating society from scratch. And plus destroying the Olympic Park was too great a temptation to resist.'
Miéville (playful from the start in his response to Nicklin's opening question 'Are you calling me bourgeois?') said that he was interested in the novels which went against the 'premium the culture currently places on control in the novel', preferring instead 'mooncalf novels written with an air of panic'. Kunzru then joined Miéville in a discussion about how the current 'hunger for content' has lead to a universal 'geekification' of society which is in turn a form of control. Miéville's true spaceman origins were laid bare at one point when he referred to human beings rather distantly as 'they': 'Ah, he said, they're on to me!'
Audience questions were incisive and wide ranging, with Kaygusuz illuminating the cultural bias in Turkey against the short story and Kunzru attenuating the argument that HBO type television series have replaced the novel by countering that 'TV can never do interiority the way a contemporary novel can. If someone in a TV series is sad they have to stare out of a novel wistfully. Maybe HBO has replaced the nineteenth century novel, but not the modern one.'
The talk then circled back on its title and when Miéville was asked about the novel's future: a self confessed 'agonised optimist', he said 'pretty good, I think.' On the basis of these three novelists alone and a packed hour of questions, the art form is as relevant and tenacious as ever.
The Edinburgh International Book Festival's ambitious programming partnership with The British Council marks 50 years since the infamous 1962 Writers Conference in Edinburgh. Since the launch events last August, the Conference baton has been taken worldwide, with events taking place in 15 cities on 4 continents: Edinburgh, Berlin, Cape Town, Toronto, Krasnoyarsk, Jaipur, Brazzaville (associate event), Izmir, Brussels, Beijing, Port of Spain, St Malo, Lisbon, Kuala Lumpur, and Melbourne. 281 world class authors representing some 61 countries have discussed literature and its relationship to contemporary life.
The last of the 48 EWWC events, which have engaged fans on Twitter, Facebook and other social media platforms, will take place at the Melbourne Writers' Festival later this month, rounding off some 67 hours of discussions and 41 keynote speeches by writers as diverse as Irvine Welsh, Inci Aral, Li Er, Olive Senior, Boualem Sansal, Ahdaf Soueif, Georg Klein and Antjie Krog. This unique collection of writing will be captured in a landmark publication, details of which will be announced shortly.
More articles