More articles Tuesday 16 August 2016 10:00pm
Edna O'Brien Publishes her 'Masterpiece'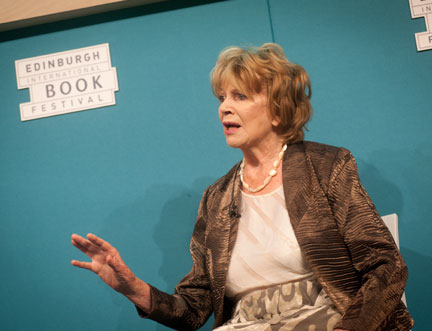 She is one of the most revered and prolific writers to emerge from her native Ireland, but Edna O'Brien pursued a literary life against the wishes of her family. "My mother disapproved of my emerging!" she told her audience at the Book Festival today. "None of my family wanted me to be a writer. They thought there was shame in it. They thought there was sin in it." And in a way there has been, for O'Brien has written lucidly on those subjects, and continues to do so – though it is clear they do not define her view of herself or her life.
First celebrated for her daring debut The Country Girls in 1960, O'Brien has published 18 novels and nine collections of short stories, as well as biographies of James Joyce and Lord Byron, stage plays, poetry and a memoir. Her new book, The Little Red Chairs, deals with a mysterious stranger who turns up in a small Irish town, and whose magnetism and mystique bring excitement and trouble in their wake. The book's specific context – the aftermath of the 1990s conflicts in the Balkans – came from her desire to write more about world events.
"For a long time – some would say too long a time – I wrote about love," she said. She continues to draw inspiration from "the knowledge and experience and sensual life and landscape of my country." But in The Little Red Chairs, the history of that country she knows so well collides with that of a foreign one, Bosnia, via the character of a war criminal living in exile as a faith healer and sex therapist. "A killer who is also a mesmeriser," she said.
Her sensual, self-important sinner, "Dr Vlad", was indirectly influenced by Bran Stoker's Dracula, but more directly based on Radovan Karadzic, whose trial she attended in The Hague. She didn't meet Karadzic, although, she said, it could have happened; his lawyer informed her that he had read her book on Joyce and admired her. "He told me, 'I think you would like each other too much if you met.'"
In the book, Dr Vlad's charisma draws in a local wife and mother, Fidelma, with drastic consequences for both. "This book is about our search," O'Brien said. "There is in us as human beings this longing - some people call that God. It might be God." Yet she is resistant to imposing solutions on her characters. "Cathartic endings sicken me! They've found peace, they've found harmony, they do headstands…"
No headstands for Edna O'Brien, but perhaps an ongoing final act. She laughed about her publishers' insistence on noting that she is "in her ninth decade", but deigned to use the troubling term herself. "In my ninth decade, I am searching around, and praying… praying that I will find a novel." The Little Red Chairs, meanwhile - which critics have called her masterpiece – is being considered as a film project, by "one of the world's great directors". She wouldn't say who.
The Little Red Chairs is available to purchase in our independent bookshop in Charlotte Square Gardens.
More articles