More articles Tuesday 25 August 2015 8:05pm
Edwyn Collins to release a new album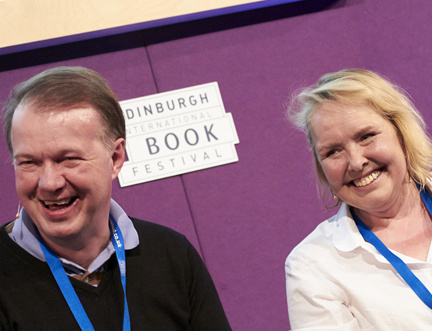 We are thrilled to hear that the Scots pop icon Edwyn Collins is going to release another album. Edwyn made the announcement in his Book Festival event today, in which he appeared with his wife, Grace Maxwell, and author Ian Rankin.
Edwyn, who first came to fame in the early 80s with his band Orange Juice, almost died from two brain haemorrhages in February 2005 which left him unable to walk and speak for a time, but battled back and continues to perform. Since his illness the singer has released three albums, the most recent, Understated, in 2013.
Edwyn, who still has problems with speech and mobility, also confirmed that he was currently having his own analogue studio installed their family home outside Helmsdale, in Sutherland. Discussing his wife Grace's 2009 book Falling and Laughing: The Restoration of Edwyn Collins, her account of their life together up to the singer's stroke and subsequent recovery, she recalled how grief-stricken he was when his friend Grant McLennan, of Australian group the Go-Betweens, died suddenly a year after he had his stroke.
Grace, who has been Collins' manager since he went solo in the early 80s, said: "Their careers were side-by-side, and when Grant died, Edwyn was really devastated and he said 'isn't it so arbitrary, I'm here, and Grant's not any more', and the simple idea of being glad to be alive has walked alongside him in the past 10 years. It's for nobody else to decide why a person is glad to be alive, it's for nobody else to figure that out except the person themselves."
Grace said that Edwyn's illness had also forced them to confront fundamental questions about the value of life. "We've had a lot of contact with people who have suffered brain injuries, and we all have this horror, this dread, of losing our mental capacity in any way," she said. "The idea of what is a valuable life, what is an interesting person, where is the character? And when you have an experience like this, it puts these questions right into the midst of your life, and it's not what people think."
Recalling the singer's recovery, the couple said that books produced for people with dyslexia by Edinburgh publishers Barrington Stoke had helped enormously in rebuilding his reading skills. Grace said: "I found one of the books in Wimbledon, where Edwyn used to get neuro-physio, and I was always thinking about what would work best for him, and they produce books for young people with dyslexia, so it's on a particular colour paper, they choose the fonts very carefully, the spacing, the sizing and it worked brilliantly for Edwyn."
The couple drew much laughter from anecdotes of their time together, recalling how the singer would pretend to be Grace's cockney PA if people phoned the house, and Edwyn's short-lived Channel 4 sitcom West Heath Yard set in a recording studio. The singer also gave an impromptu acoustic performance of two songs - Searching for the Truth, the first song he wrote while recovering in hospital, and his hit single A Girl Like You - with the help of Grace, who strummed while Edwyn handled the chords. Touchingly, he sung to her as much as the audience. Not a dry eye in sight!
More articles