More articles Monday 28 August 2017 12:10pm
First Minister Attends Book Festival's ReimagiNation: Irvine Festival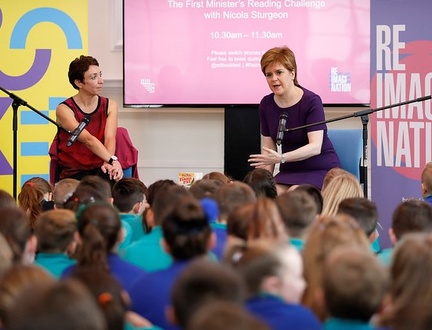 Scotland's First Minister, Nicola Sturgeon, today talked about her passion for reading at the Book Festival's pop up festival, ReimagiNation: Irvine. The First Minister spoke to over 100 pupils from Lawthorn Primary School in Irvine on her Reading Challenge, a year since its launch. The ReimagiNation: Irvine festival started on Sunday and runs until Tuesday, presenting writers, comedians, musicians and illustrators in a packed programme of events for adults, children and families and schools.
First Minister Nicola Sturgeon said: "It is a real coup for my hometown of Irvine to have this wonderful opportunity to become part of the Edinburgh Book Festival by hosting ReimagiNation. I am passionate about reading and it was a pleasure to read one of my favourite childhood authors, Enid Blyton, to the children I met today. I'm proud that so many schools across Scotland have signed up to the First Minister's Reading Challenge and I hope that it will foster a love of reading and literature in the next generation."
ReimagiNation: Irvine includes talks, workshops and discussions for adults and children, including Mary Contini from Edinburgh's acclaimed Italian delicatessen, Valvona & Crolla, telling stories of mouth-watering recipes and laughter, painting a picture of life in wartime Italy and Scotland and authors Michael J Malone and Lisa McInerney presenting a double-bill of chilling, scintillating and compelling psychological thrillers. The family and children's programme features Knightly Tales from author Vivian French with live drawing from Hugless Douglas illustrator David Melling. Tracey Corderoy and Steven Lenton brought stories, pictures and games with Shifty McGifty and Slippery Sam.
Irvine's own Andrew O'Hagan chaired a lively key Debate – Irvine: A New Old Town? - where residents of Irvine had a chance to tell their own stories, and Irvine Unbound popped up in Portal's café. This thrilling, cabaret-style two hour event with live music, hilarious and haunting readings from authors showing new sides to their work was free to attend.
ReimagiNation: Irvine, presented in partnership with North Ayrshire Council, is part of the Book Festival's Booked! programme of events which is supported by players of the People's Postcode Lottery. ReimagiNation is part of the Book Festival's new five-stop tour of Scotland's New Towns, marking 70 years since the passing of the Scottish New Towns Act. It is also 70 years since Edinburgh became a Festival City, with both actions taken in response to the destruction and social upheaval created by the Second World War. The series of ReimagiNation festivals kicked-off with a three-day event in Cumbernauld in the spring, and also visited East Kilbride last week. In 2018 the tour continues to Glenrothes and Livingston.
Janet Smyth, Programme Director for the Edinburgh International Book Festival, said "We were delighted to work with North Ayrshire Council and various local partners to present ReimagiNation: Irvine, a special community festival celebrating the stories of this fascinating New Town. 2017 marks several anniversaries for Irvine and the four other New Towns of Scotland. At a time of increased attention on the town's unique architecture, urban design and history, we are working to gather and celebrate the human stories amid the bricks and mortar, looking forward to the future of the town as well as exploring the ideas and circumstances which led to its establishment. Our thanks go to the players of People's Postcode Lottery whose support has made ReimagiNation possible."
Clara Govier, Head of Charities at People's Postcode Lottery, said: "As People's Postcode Lottery continues to grow the amount that our players award to good causes continues to increase. We are very proud that our players can continue to support the development of the Book Festival, giving many more people the opportunity to enjoy and benefit from its valuable work."
To find out more about the Book Festival on the road around Scotland throughout the year, visit booked.edbookfest.co.uk
More articles