More articles Saturday 22 August 2020 1:30pm
Frans Timmermans, Executive Vice President of the Europe Green Deal: "We are poisoning our own habitat at an incredible rate"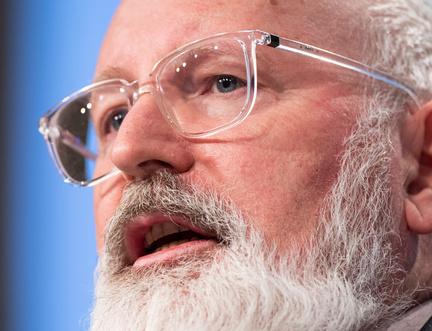 Gordon Brown called for a message of hope in his conversation with Frans Timmermans, Executive Vice President of the European Commission's Green Deal this evening at the Edinburgh International Book Festival online.
In a wide-ranging conversation, they discussed the repercussions of the pandemic, youth unemployment, Scotland's place in Europe and the importance of nations working together to urgently tackle climate change.
Timmermans expressed concern that the COP Meeting in Glasgow next year needed to reach agreement for real change, not just words. "We no longer have a healthy relationship with our natural environment. We are poisoning our own habitat at an incredible rate. Are we able, as humanity, to recreate a sustainable balance with our natural environment?"
He stressed that for Glasgow to be a success, the richer nations must look at the needs of the poorest countries in the world, especially those in Africa and the Pacific, helping them to adapt to the new realities of climate change, especially after the pandemic. "We have to have a very strong commitment. The poorest countries can block any agreement in Glasgow if they feel left out or ignored."
Timmermans also discussed the importance of projects such as sustainable energy production in the North Sea which he described as one of the most exciting opportunities however, it "would be a tragedy if, because of Brexit, there was not an integrated approach". It was essential that the interested European member states and the UK co-operated to set up the necessary grids and systems. He believes that Hydrogen is the fuel of the future, and with the right systems in place could create jobs and have a positive knock on effect in other parts of the industry.
With youth unemployment as high as 50% in some European member states, he admired this generation of young people struggling to find a future for themselves. He believes that there are opportunities for many new jobs in the UK and across the continent, but old jobs will be lost. "The jobs of the future are not the same jobs that we have today. We have to put people in the position to learn new skills and adapt to this new situation. If we do this well, nobody needs to become unemployed."
The conversation moved on to Europe's position in the world, and the influence of Europe in an international context. Timmermans commented "If we don't find a new way of creating multilateralism then we will be stuck in a bipolar world with Europe becoming completely irrelevant, because we will be torn apart between the USA and China. We will not be able to defend our own interests, we will not be able to help Africa and to create this symbiosis with Africa that I believe we need. It is in our essential interest that we recreate a new model of multilateralism."
Finally, in answer to a question from a member of the audience, Timmermans said that an independent Scotland might not find it as easy to re-enter Europe as is currently being suggested. He warned that this needed the agreement of all member states, and some member states had strong reservations, concluding "I wouldn't be overly optimistic about this possibility."
This event was part of our Ideas for Our Times: The Scottish Mortgage Investment Trust Event Series. The Edinburgh International Book Festival continues until Monday 31 August. All events are free to view through the Book Festival's website edbookfest.co.uk.
More articles