More articles Wednesday 21 February 2018 9:45am
Full Programme for ReimagiNation: Glenrothes Announced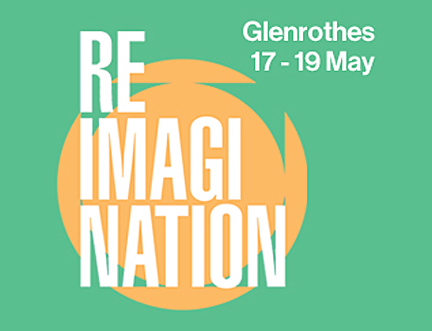 Today, we've announced details of the programme for our new pop-up festival ReimagiNation: Glenrothes, which takes place from Thursday 17 to Saturday 19 May 2018 in the Rothes Halls, Glenrothes in collaboration with Fife Cultural Trust. Over three days the Festival will host events and activities for all ages welcoming writers, musicians and poets including world renowned authors Val McDermid, Christopher Brookmyre and Mark Billingham, Emmy Award-winning wildlife cameraman James Aldred, Sally Magnusson, Judy Murray and Archie Macpherson who will all join audiences in celebrating everything from crime writing to football, poetry and the stories of Glenrothes residents.
ReimagiNation: Glenrothes is part of the Book Festival's Booked! programme of events which is supported by players of the People's Postcode Lottery, and the fourth of a five-stop tour of the Scottish New Towns, marking 70 years since the passing of the Scottish New Towns Act and in June 2018 the 70th anniversary of Glenrothes itself.
Janet Smyth, Book Festival Programme Director, said "We're excited to announce this particular line-up for ReimagiNation: Glenrothes developed specifically with the thoughts and wishes of the town's residents in mind and building on the previous ReimagiNation events across three of the other New Towns. Local voices entwine with nationally significant writers and performers to mark 70 years since the Scottish New Towns project began to reshape the post-war country. Having travelled from Cumbernauld to Irvine and East Kilbride it has been fascinating to see how these distinct communities have played a part in the shaping of a post-industrial Scotland and to see how each has shaped their individual identities from the original common vision. Glenrothes is the penultimate stop on our journey and ReimagiNation is all about looking at the places we think we know in new ways, and we hope the people of Glenrothes and book lovers everywhere will feel inspired by the stories that are shared at the festival."
There will be lots of free activities around the Festival at the Kingdom Shopping Centre and ON at Fife Libraries from face painting to pop-up information stands. Waterstones book shop will be popping up in the Kingdom Shopping Centre over the weekend and the National Library of Scotland will be showing original New Town promotional films and town plans. To find details of the full programme for
ReimagiNation: Glenrothes
please visit
booked.edbookfest.co.uk
. Tickets for all events are on sale now, and are available to book online at
booked.edbookfest.co.uk
or
onfife.com
, by phoning 01592 611101 or in person at the Rothes Halls, Glenrothes ((Mon – Sat, 9am – 5.15pm). Most tickets cost £5 (£3 concessions) and there are plenty of free events across the programme.
More articles