More articles Tuesday 12 August 2014 10:00am
George R R Martin wows Book Festival audience in Edinburgh and beyond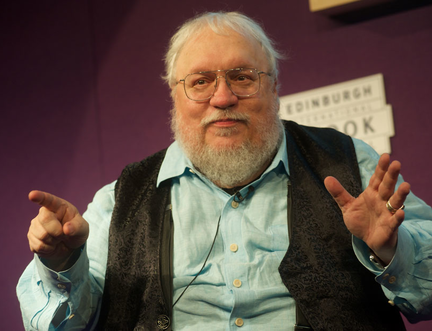 George RR Martin delighted a full house at the Edinburgh International Book Festival last night, discussing his A Song of Ice and Fire series with writer and literary critic Stuart Kelly.
During the event, which was live-streamed via BBC Arts online, the author revealed his love of British medieval history and he talked about the influence of Scottish authors, including Nigel Tranter and Sir Walter Scott, on his writing. Explaining how he had written A Song of Ice and Fire partly in response to the Disneyfication of historical events commonly found in fantasy fiction, he admitted that he enjoys breaking the rules as a writer, injecting the fantasy genre with a dose of the real-life grit and bloodiness found throughout history.

He joked that his biggest literary influence was, perhaps, comic writer Stan Lee who'd been responsible for sparking his interest in creating fascinating characters through comics such as the Avengers and the Fantastic Four. He also cited Boromir and Saruman from Tolkien's Lord of the Rings as some of his favourite fictional characters because of the moral challenges they face.

Perhaps the biggest revelation of the evening was that some of Martin's female fans have asked him to include more explicit gay sex scenes in his writing. When asked why the Game of Thrones TV series was more explicit than his books he explained that, because he writes from a 'viewpoint' perspective, readers are restricted to seeing only what the character he is writing as at the time sees.

More articles