More articles Tuesday 18 August 2020 5:45pm
Helen Skelton and Lily Dyu challenge young audiences to get adventurous at home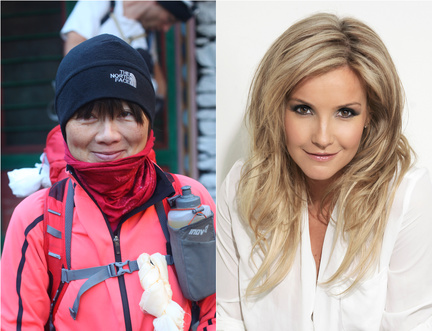 In a Baillie Gifford Children's Programme event at the Book Festival Online this afternoon, BBC presenter and adventurer Helen Skelton and runner, writer and wannabe astronaut Lily Dyu challenged their young audience to get adventurous on their own back doorstep. In a wide-ranging discussion which you can rewatch in full, and which covered Helen's kayaking trip down the Amazon and journey to the South Pole plus the stories of intrepid women featured in Lily's book Fantastic Female Adventurers, both authors spoke of how they got into the great outdoors, and what sort of adventures they still wanted to have.
Helen Skelton's idea of an adventure was to have a plan, not to have any rules, and to try to be a little bit adventurous every day – even if it's just making a different sort of sandwich; while Lily Dyu recommended going exploring, discovering new places and doing something that might be a little scary, but being brave and giving it a try.
Their advice as to how to have adventures in lockdown ranged from camping in the garden in a bivvy bag to watch the stars, or building a den in a different room and camping in the house, taking your usual bus route back to front as Helen admitted that getting lost is part of the adventure. Lily stressed that adventures don't have to be big, or expensive, and can start on your own back doorstep.
Lily thought the most breathtaking natural wonder she had seen on her adventures was the Himalayas, when she ran around the 8th highest mountain in the world. "It was the most beautiful place I've ever been. It felt like you could touch heaven." Helen came a bit closer to home with the Lake District – which she likened to a smaller version of Alaska.
They were asked by a member of the online audience what had been the hardest challenge they had ever faced. Helen spoke of her trip to Antarctica, saying "I had to be on my own a lot. It made me realise how much I valued people and valued a team. I thought I'd never take my friends or family for granted again." Lily remembered a 4 day running journey across Snowdonia when she hadn't read the guidebook properly and ended up crossing a remote ridge telling herself "I am not afraid, I am not afraid."
Helen agreed, adding "It's about proving to yourself what you are capable of."
--
This event was part of the Baillie Gifford Children's Programme. You can rewatch the event in full on our website: https://www.edbookfest.co.uk/the-festival/whats-on/get-adventurous-with-lily-dyu-helen-skelton/player
More articles