More articles Sunday 20 August 2017 2:45pm
Icelandic Author Thordis Elva Talks of Rape and Forgiveness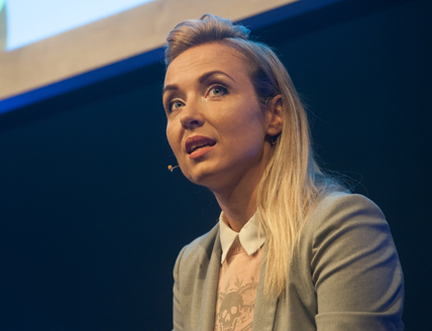 Author Thordis Elva says the "monster myth" of rape perpetrators needs to be "dismantled" in order to make "meaningful progress" on sexual consent.
Elva was raped by her boyfriend, Australian Tom Stranger, when she was 16. Later, they exchanged emails about the incident for eight years, before meeting again in Cape Town and co-authoring South of Forgiveness: A True Story of Rape and Responsibility, an unusual collaboration between survivor and perpetrator.
Speaking at the Book Festival this morning, the Icelandic playwright and activist said "part of the problem" were all the "stereotypes". "Statistics show the perpetrators are the people we know, even the people that we love," she said. "The most common perpetrator is the boyfriend, it's the spouse, it's the co-worker, it's the colleague, it's the person you went to school with.
"And until we face that and start talking openly that the perpetrators are not monsters, they're the people that walk among us, then I don't think we'll make meaningful progress. So, one of the hopes we had by [writing this book] was to dismantle some of those myths, some of those misconceptions that are unfortunately still alive and well.
"As long as the perpetrator is nameless and faceless and anonymous he's going to be a mythological creature, and as long as he's a mythological creature I think the monster myth will stay alive, and it needs to be dismantled."
Elva said she and Stranger shared a "deep sense of urgency" that sexual consent was a "global pressing issue" on which "we're not doing anywhere near enough".
Of the book, she added: "I respect that collaboration deeply, and I respect the contribution that we both have in that sense, but of course I will always have my personal feelings towards what happened. I have good days, I have bad days, that's why I call healing a 'lifestyle', you can take two steps forward and one step back – it's an organic journey."
More articles