More articles Sunday 19 August 2012 6:00pm
Irvine Welsh criticises globalisation at Edinburgh World Writers' Conference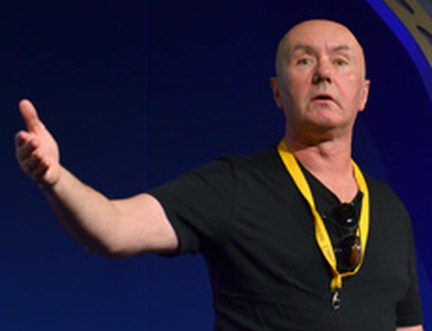 On the third day of the Edinburgh World Writers' Conference Ian Rankin and Irvine Welsh led a discussion about the impact of national identity on the novel titled 'A National Literature?' Rankin kicked off proceedings by alluding to the original 1962 conference when enfant terrible Alexander Trocchi nearly sparked a brawl withHugh MacDiarmid by attacking Scottish literature. Welsh followed with an eloquent treatise on the dangers of corporatisation.
Welsh argued that the "current era of globalization has, in some ways, strained the relationship between a national-cultural identity and a nation state". This he feared is leading to the prevalence of an anodyne "mono-cultural British nationalism". He praised Scottish authors including Alan Warner, James Kelman, Jenni Fagan, Ewan Morrison, John Niven and Doug Johnstone, stating that their books "clearly could not have been written by non-Scots". However, he expressed the fear that the publishing industry is getting blander and that if written in 2012 Trainspotting would be unlikely to be published by a recognised publisher.
Referring to the "'British' literary paradigm", which he argued exists to "negotiate against difference" he was heavily critical of the literary establishment pointing out that "Only one Scottish novel has won the highly imperialist-orientated Booker Prize, routinely chosen by a largely upper middle-class English panel, and alternating around fifty-fifty between largely upper-middle-class English writers and citizens of the former colonies, presumably to stamp legitimacy on this 'global accolade.'"
The Edinburgh events of this worldwide conference, which is an ambitious programming partnership between the Edinburgh International Book Festival and the British Council, involve 50 delegates from 25 different countries discussing and debating the role of fiction in society with a public audience. It takes place 50 years after Edinburgh hosted a legendary conference, credited as the world's first literature festival.
Welsh ended on a twofold call to arms embracing multiplicity: "Firstly, let's have a look around, it's a big world, and if bits of it move you, don't be afraid to write about it. Second, be bold, and proud of who are and where you come from."
Edinburgh World Writers Conference Sessions at the Edinburgh International Book Festival run from 3.00pm to 5.00pm daily until Tuesday 21 August. Tomorrow Patrick Ness will deliver a keynote speech on Censorship Today in a session chaired by Chika Unigwe and to close the Edinburgh element of the Writers' Conference on Monday China Miéville will speak on The Future of the Novel, chaired by Janne Teller. Tickets, priced at £10 (£8 concessions) are available here on the website or through the Box Office on 0845 373 5888. Each session will also be broadcast live on-line on www.edinburghworldwritersconference.org
More articles