More articles Friday 26 August 2011 8:00pm
Jackie Kay wins Scottish Book of the Year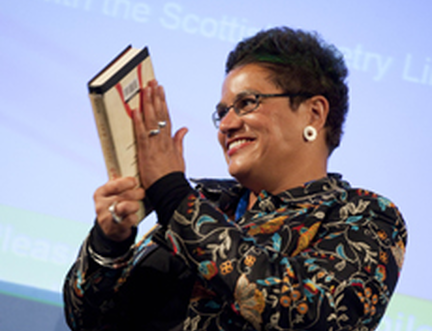 Jackie Kay has won the Scottish Mortgage Investment Trust Book of the Year award for her memoir Red Dust Road. The announcement was made at a special event at the Edinburgh International Book Festival earlier today.
The awards, which are run in partnership with Creative Scotland, were established over thirty years ago to recognise the very best in Scottish writing and are now one of the biggest literary prizes in Scotland. This year, for the first time ever, readers were involved in selecting the winner via a public vote. Red Dust Road secured over half of the public votes, and was the unanimous choice of the judges.
On winning the award, Jackie said that she was overjoyed, adding that Red Dust Road, which is a brave and heart-warming account of her journey towards finding her birth parents, 'is about my family in all of its complexities. I happened to write the book, but in a way it feels like my whole family is the winner.'
Dr Gavin Wallace, Chair of the Judging Panel said 'Jackie Kay's Red Dust Road stood out in an exemplary way in showing one of our most distinctive and original writers at the very height of her powers. Written with an astonishing immediacy and directness of voice and with all Kay's novelistic and poetic skills, it is a courageous, affirmative and lyrical memoir of the author's search not just for her birth parents, but for self-identity and beyond'.
The shortlist for the award was made up of the winners of each of the four prize categories: Leila Aboulela for Lyrics Alley (fiction category); Stewart Conn for The Breakfast Room (poetry category); Sue Peebles for The Death of Lomond Friel (new book category) and Jackie Kay who topped the non-fiction category. Each category winner received a prize of £5,000, with the overall prize for Scottish Book of the Year being £30,000.
More articles