More articles Monday 24 August 2015 6:25pm
James Naughtie calls Salmond's comments on Nick Robinson "bizarre and weird"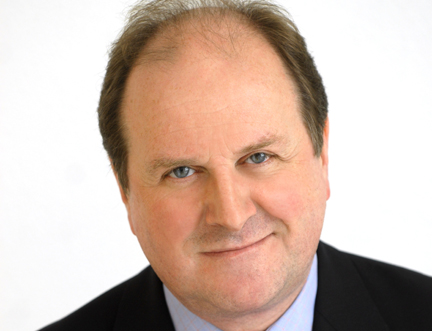 Alex Salmond's attack on Nick Robinson and the BBC over its coverage during the Independence Referendum was "bizarre" and "weird", said broadcaster James Naughtie at his Book Festival event today. The Radio 4 Today presenter, said that the former First Minister should "move on" after he described Nick as an "embarrassment" and the BBC's coverage of the referendum as a "disgrace" in an interview at the weekend.

He was reacting to comments made by the departing BBC Political Editor during an appearance at the Book Festival last week, when Nick drew parallels between Vladimir Putin's Russia and demonstrations staged by Nationalists outside BBC Scotland's Glasgow headquarters during the referendum campaign following a spat with the then-First Minister in a press conference.

But James criticised Alex Salmond for pursuing the falling-out. He said: "I do think that the personalisation of it, a year on, is bizarre. I think that the idea that the former First Minister, a distinguished parliamentarian both in Edinburgh and London, should still be getting at Nick for one alleged offence in the heat of an election campaign is bizarre, and it is interesting that the First Minister herself shows no interest in getting involved at all."

When asked if he felt Nick had been right to draw the comparison, James refused to criticise him. "Nick's words are a matter for him," he said. "We would all choose our phrases. I don't know what, had I'd been asked the same question, had it been me who had been on the posters, the phrase I would have searched for, might have been Putin's Russia, might have been something even fruitier. I'm not going criticise Nick's words. I just think it's weird that Alex Salmond should sort of waste his time still pursuing that argument."

The broadcaster defended the BBC's coverage of the referendum, saying that it had been "remarkable" and that the corporation had behaved as "responsible public broadcaster."
He added: "Of course there's always room to argue about x or y in any election campaign, there always is, but a year later to be banging on about one individual as a result of a spat at a press conference is, well, I think it should be an end of it."

James also noted that, at the time of the protest outside the BBC Scotland's headquarters, Salmond had described the event as "joyous" but that Nicola Sturgeon had "taken a complete different line".
Addressing his packed audience, the broadcaster, who is due to step down as a Today presenter later this year, also said that Britain's traditional two-party political system was a thing of the past and that it was yet to be seen how the current state of flux it was in would resolve itself.

Pointing to a collapse in deference towards establishment politicians, which he attributed in part to the rise of online social media but also to the MPs expenses scandal that engulfed Westminster in 2009, James said that the current popularity of the likes of the SNP, UKIP and outsider figures such as the left-wing Labour candidate Jeremy Corbyn was due to the ability to present themselves as being untainted by failure.

"They don't appear to be part of an establishment that hasn't delivered," he said. "And that may not be a fair judgement… but in a period of decline and lack of political influence, the establishment that has appeared to manage that decline and not reverse it, let's say in the last 25 years, is inevitably going to be blamed." He added that a key part of their popularity was that non-establishment parties and figures were "believed" by the public to be offering something, even if the reality of their performance or policies did not bear this out.
More articles