More articles Monday 15 April 2019 10:30am
Join in with Citizen at North Edinburgh Arts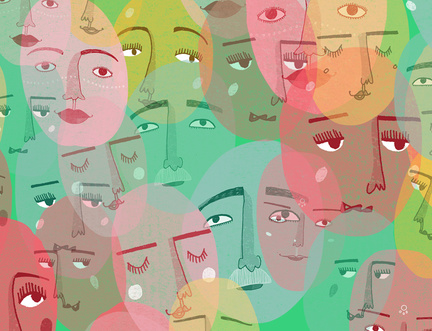 The Book Festival is headed to North Edinburgh Arts for an exciting array of events as part of our ongoing Citizen programme. Across Saturday 11 May the voices of local residents, community groups and school pupils come together with writers, musicians and artists as they share stories, experiences and ideas of what it means to them to be a citizen today. Visit ontheroad.edbookfest.co.uk now to see the afternoon's programme.
Led by our Citizen writers-in-residence, Claire Askew and Eleanor Thom, Citizen at North Edinburgh Arts is a chance to hear people's views on the communities in which they live, exploring their connections to each other, their local area and the world beyond. Open to all, the celebrations include a free community buffet, live folk music and storytelling, and interactive activities for kids, all designed to bring people together and amplify discussions of home and belonging.
Claire has been working with pupils in Liberton High School, Broughton High School and Craigroyston Community High School, and they come together for Citizen-themed workshops on a special schools day on Thursday 9 May. The students will be able to learn from and get creative with Cumbernauld writer Kirkland Ciccone, Gerald Richards from Leith's Super Power Agency and illustrator Eilidh Muldoon.
Saturday 11 May is bursting with free activities for all ages. At the heart of the day are stories gathered by Eleanor and Claire during their work with communities across Muirhouse, Wester Hailes, Moredun and beyond. Ideas, memories and reflections on the meaning of home and belonging are shared live and through audio recordings during the day. Interdisciplinary artist Chris Dooks has created an enchanting soundscape featuring local voices and field recordings, which can be experienced free throughout the day
Families can learn to write tales aboard the Super Power Agency Bus, go on imaginative adventures with costumed duo Macastory and transform into works of art with face painting fun. Illustrator Eilidh Muldoon will be encouraging everyone to add to an amazing collective collage of their neighbourhoods, while Mitch Miller introduces his dialectograms – pieces of graphic art showing our relationships with the places we live. There's Tanya Roberts' comic book making station to explore, as well as Kevin Dagg's Pearls of Wisdom exhibition of clay sculptures of north Edinburgh residents, and specially selected footage of Edinburgh from the National Library of Scotland's Moving Image Archive.
As the Book Festival's Programme Director Janet Smyth put it, "A brew and a blether are an essential part of community life", so to bring neighbours together, Citizen at North Edinburgh Arts will include a free community buffet-style meal. Residents can gather, break bread, share stories and experiences, and celebrate the importance of food to personal and communal identity.
The day's celebrations culminate in a performance from Aidan O'Rourke, fiddle player from the folk group Lau, accompanied by fellow musician Kit Downes. Celebrated author James Robertson wrote a story every day for a year in 2013 – each exactly 365 words. Aidan then wrote a tune, corresponding to each one. He and Kit share a selection of these songs, interwoven with stories read by students of the Royal Conservatoire of Scotland. With references to myths, folk legends and everyday lives, expect an evening of powerful, stripped-back storytelling and talent.
Citizen is about your stories; we want to hear them in whatever way you choose. Kate Wimpress, Director of North Edinburgh Arts, said "The stories we tell, to others and to ourselves, shape the way we see the world and how the world sees us. North Edinburgh Arts is a place where people meet to share time, food and ideas relevant to the local, the city, the country and beyond. The Citizen events in May give us the chance, once again, to throw the doors open wide, strike up conversations, and offer a really warm welcome to everyone involved so far or interested in finding out more."
Citizen is part of the Edinburgh International Book Festival On the Road, and is supported by players of People's Postcode Lottery and through the PLACE Programme (funded by the Scottish Government, City of Edinburgh Council, and the Edinburgh Festivals, and supported and administered by Creative Scotland).
More articles