More articles Tuesday 15 August 2017 9:30pm
Judy Murray Speaks at a Sold Out Book Festival Event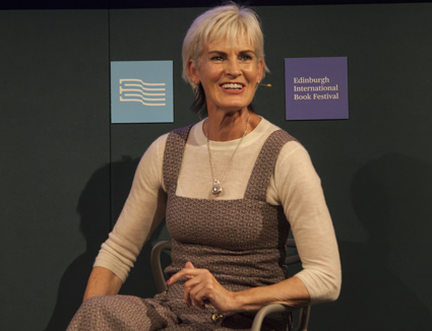 Judy Murray says she thinks it is "gobsmacking" that more has not been done to capitalise on the success of her tennis player sons over the past decade. Speaking at a sell-out Book Festival event, she said: "What kills me is that we haven't had any new indoor courts in Scotland in the ten years that Andy's been in the top five. So in the ten years that the boys have won their slams and all the rest of it, there's been no new pay-and-play courts…to me it's just gobsmacking that we haven't capitalised on the success."
Discussing her new book, Knowing the Score: My Family and Our Tennis Story, Murray also expressed disappointment that her plan for a sporting and housing development in Dunblane was "taking so long". A public inquiry is currently looking at the £37.5 million Park of Keir scheme, with Scottish Ministers due to decide on its future after Stirling Council rejected the proposal.
Asked about equal pay for female players and whether they should be playing five sets, Murray said she "would rather see the men playing three sets. I think there are implications of women playing five sets that actually would mean that the tournament would need more court time," she said, "it would just take a whole lot longer. I also think the five sets is a great spectacle, and special at a grand slam for example, but for the guys, sometimes you're out there for four or five hours, and especially if you're playing in Australia and the heat is just amazing, it just takes so much out of them, it's so tough on them.
"I think the women actually have an advantage only playing three sets, in that most of them, if they choose to, can play doubles and mixed as well. You'll never get the top men being able to do that, because the five sets physically takes so much out of them, so I'd probably rather see it going the other way and the men playing three."
Murray also reflected on criticism of her son Andy when he first entered the media "spotlight". She said: "Whether it was what he looked like, what he sounded like, that he was boring, that he was too competitive, that he swore, that his shorts were too baggy, it was always something – I used to read everything because I wanted to know who was saying what.
"I had to help him deal with that. You just have to apply the common sense thing, but it is hard. [Now] I think generally he is much better accepted, and I think that happened after the 2012 Wimbledon final when he lost. [It's] amazing what a few tears can do."
More articles