More articles Tuesday 01 July 2014 4:30pm
Jura Unbound promises nights of literary delight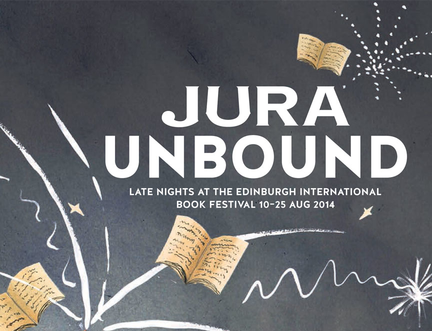 Jura Unbound will bring some late night literary razzle dazzle to the Edinburgh International Book Festival this August, promising a mischievous mixture of words, music and comedy.
The line-up, which was revealed today, will see an astonishing array of Scottish and international writers, artists and performers unleash their indefatigable energy and creativity on the stage of the Book Festival's infamous Guardian Spiegeltent.
Opening the programme on Sunday 10 August is Glasgow's Empire Café with a scintillating evening of poetry and prose plus live music from Stanley Odd. Scottish publisher Canongate presents Lost and Found, a heady night of exploring when, how and why we need escape. Reel Festivals return with Syria Speaks, a showcase of Syrian writing and music that celebrates the cultural richness the country has to offer, and Spoken Word takes centre stage with Nasty Little Press and Page Match promising poetry that packs a punch.

If you're looking to revitalise your literary life then Andy Miller will be on hand to help you Read Y'self Fitter, while The Bookshop Band will craft miniature musical masterpieces inspired by a startling array of writing, and live literature duo Rally & Broad present a special Ampersand edition of their cross-artform cabaret.

Vic Galloway hosts authors and musicians from some of Scotland's finest independent publishers and record labels, Neu! Reekie! stretch their virile new limbs - Neu! Reekie! Publishing and Neu! Reekie! Records, Jim Lambie joins us for the latest edition of his iconic Glasgow-based Poetry Club, and Olaf Furniss presents a special Jura Unbound edition of Born To Be Wide featuring music business impresario Simon Napier-Bell.

From further afield we welcome back author and musician Willy Vlautin to explore masculinity and modern life in North America, we celebrate 10 years of Edinburgh's UNESCO City of Literature status with an evening of words and music from fellow City of Literature Krakow, and world renowned psychic Laars Head, the comic creation of author EO Higgins, will bring a séance to the Guardian Spiegeltent.

James Yorkston hosts the Edinburgh launch of his new album, The Cellardyke Recording and Wassailing Society, ably assisted by album contributors The Pictish Trail and KT Tunstall.

Jura Unbound evenings are free and unticketed and take place every evening from 10 – 25 August from 9pm in the Guardian Spiegeltent in Charlotte Square Gardens.
Find the full Jura Unbound line-up on the Book Festival website and in The Skinny which also has features and interviews with Jura Unbound participants.

More articles