More articles Monday 19 January 2015 10:00am
Kazuo Ishiguro in special spring Book Festival event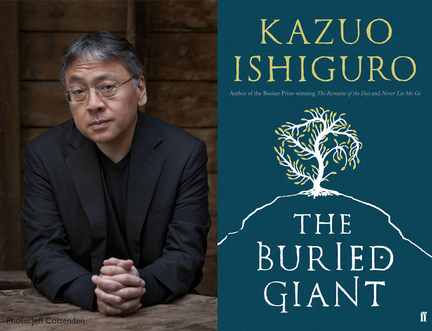 This spring the Edinburgh International Book Festival welcomes one of the world's leading novelists, Kazuo Ishiguro, to Edinburgh to talk about his first novel in ten years.
The event, which is presented in association with Faber & Faber and supported by players of People's Postcode Lottery, will see the celebrated author discuss his highly anticipated stunning new work, The Buried Giant, at the Royal Lyceum Theatre on Thursday 5 March 2015.
The painfully personal story follows Axl and Beatrice as they journey across a land of mist and rain in the hope of finding the son they have not seen for years. They expect to face many hazards but they cannot foresee how their journey will reveal to them dark and forgotten corners of their love for one another. This intensely moving story of love, lost memories, revenge and war is troubling and mysterious and yet strikingly relevant, and it lingers in the mind long after reading.
Ishiguro's seven previous books have won him international recognition and many honours around the world and his work has been translated into over forty languages. The Remains of the Day and Never Let Me Go have each sold in excess of 1,000,000 copies in Faber editions alone, and both were adapted into highly acclaimed films.
Nick Barley, Director of the Edinburgh International Book Festival, said 'We are thrilled and proud to welcome Kazuo Ishiguro back to the city to talk about his first novel in a decade. This new book is something to be celebrated: Ishiguro has produced a gripping tale which is also profoundly moving – a novel set in another era that feels highly relevant to the world we live in today. It is an honour to welcome this master of the storytelling art back to Edinburgh.'
Ishiguro's appearance is part of a wide-ranging programme of exciting literature events and activities from the Edinburgh International Book Festival. The series, which will be taking place across the country, focuses on instilling a love of books and an enjoyment of reading for all levels of ability, all ages and all communities, and is funded by generous support from players of People's Postcode Lottery.
Kazuo Ishiguro will be speaking at the Royal Lyceum in Edinburgh on Thursday 5 March at 5.15pm. Tickets, priced at £12 (£10 concession) are available from the Lyceum Box Office. Details about how to book can be found on the Lyceum website.
More articles