More articles Tuesday 03 July 2018 11:00am
Late Nights at the Book Festival with Unbound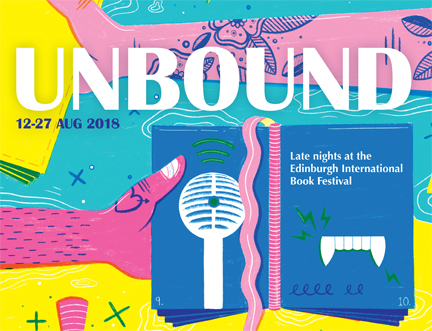 We have now revealed the full line-up for this year's Unbound, our nightly literary cabaret of talented voices playing with words, music, illustration, poetry and performance in our Spiegeltent in Charlotte Square Gardens throughout the Festival (12-27 August). Book Festival Programme Director, Roland Gulliver, sums up Unbound perfectly when he describes it as 'UNexpected BOoks in UNDeniably enticing formats'.
The 2018 line-up includes Damian Barr bringing his Literary Salon to Edinburgh after taking the world by storm with sell out salons in London, New York and Moscow; a celebration of contemporary voices from the nations of Africa in Africa Unbound; and the return of crime-writing supergroup the Fun Lovin' Crime Writers for an evening of criminally good covers.
We celebrate anniversaries of two dark tales, Frankenstein and Dracula, in Night of the Literary Living Dead!; present some of the best poetry coming out of our fellow City of Literature, Barcelona in Set Thought and Voice Free; and Andrew Rae brings a merry band of illustrators and musicians together for an evening of performance and live drawing, featuring tunes from Adelaide's Electric Fields.
In a Festival finale (starting at 7pm), singer-songwriter James Yorkston brings his award-winning folk club to the capital, featuring music and poetry performances including songs from international supergroup Yorkston Thorne Khan. Tae Sup wi' a Fifer follows our work in Fife back in May, this time bringing the Kingdom to Charlotte Square Gardens for a spectacular Festival curtain-closer.
For more information about these and all of the other Unbound nights, you can browse the full listings on our website, head on over to The Skinny website or pick up a copy of The Skinny and have a read of the Unbound supplement, which contains event information and features on Unbound participants.
Unbound evenings are free and unticketed and take place every evening from 12-27 August from 9pm to 11pm in the Spiegeltent in Charlotte Square Gardens. (Please note: Unbound on Monday 27 August will run from 7pm to 11pm).
More articles