More articles Monday 27 October 2014 9:30am
Mai Al-Nakib wins 2014 First Book Award with The Hidden Light of Objects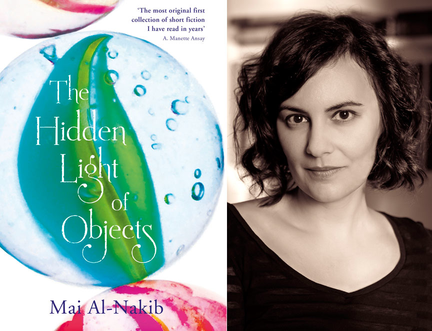 Kuwaiti author Mai Al-Nakib has won the Edinburgh International Book Festival's 2014 First Book Award with The Hidden Light of Objects, a stunning collection of short stories which explores the private struggles of adolescence, marriage and middle age by taking a quiet look at the lives of ordinary people living in the Middle East.
Now in its fifth year, the First Book Award encourages the Festival audience to discover the wealth of debut fiction featured in the Edinburgh International Book Festival programme. Forty six novels and short story collections were eligible for the 2014 award and readers were invited to vote for their favourite. Over 2,200 votes were received by the closing date and for the first time in the Award's history the winning book is a short story collection.
On winning the award Mai Al-Nakib said 'I am incredibly grateful for this award. To have my book selected by readers is especially gratifying and encouraging. It means so much to know that readers from all over the world are connecting with The Hidden Light of Objects. This award is especially meaningful to me because it is my first and because it comes from Edinburgh, the city I spent some time in when I was a baby. It has been part of my personal narrative for so long – I was born in Kuwait, spent a few months in London, and then in Edinburgh, before moving to St. Louis, Missouri when I was two – that winning an award from this city's Book Festival feels like I've come full circle. I couldn't be more thrilled.'
Book Festival Director Nick Barley said 'This is an extraordinarily moving and assured debut collection depicting the lives of ordinary people in a region of the world that is high on the news agenda. I am excited that our audience chose a collection of short stories for the first time in the history of our First Book Award. Al-Nakib's strikingly assured stories range from the moving account of a Palestinian teenager who inadvertently becomes a suicide bomber, to a nostalgic depiction of 1960s Beirut before it was ravaged by conflict. Melancholy and yet full of hope, they add up to a delicately devastating portrait of the Middle East, the like of which has perhaps never before been rendered in the English language. This book, and its huge endorsement in this public vote, heralds the arrival of a rising literary star.'
Mai Al-Nakib was born in Kuwait in 1970. She holds a PhD in English Literature from Brown University in the USA and teaches postcolonial studies and comparative literature at Kuwait University. She lives in Kuwait and is currently writing her first novel.
More articles