More articles Tuesday 04 June 2013 6:10pm
Malorie Blackman is the new Children's Laureate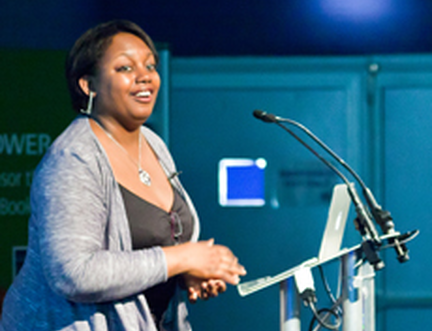 Critically acclaimed author Malorie Blackman has been named as the new Children's Laureate, taking over the role from Julia Donaldson at a special ceremony in London.
The post of Children's Laureate was created to celebrate outstanding achievement by a children's author or illustrator, and to acknowledge their importance in the role of encouraging the young readers of tomorrow.
Celebrated for writing about a diverse range of characters who are often marginalised in society, Malorie has penned over 60 books for children and young adults and has also written for stage and television. Her novel Pig-Heart Boy was shortlisted for the CILIP Carnegie Medal and adapted into a BAFTA award-winning television series and in 2008 she was honoured with an OBE for her services to children's literature. Her most recent novel, Boys Don't Cry, tells the gripping story of a teenage father.
Speaking about becoming the Children's Laureate Malorie said 'A love of books has opened so many doors for me. Stories have inspired me and taught me to aspire. I've been a professional author for over 20 years, so I feel now is the time to give something back. I hope to instil in every child I meet my love and enthusiasm for reading and stories.'
Malorie, who was formerly a computer programmer, plans to make literature come alive for a generation of digital-savy teens by encouraging them to explore a range of literature forms, from short stories to graphic novels, and to produce creative responses to their reading through different media.
She has also pledged to use her 2 year tenure to encourage parents and teachers to spend ten minutes each day reading to their children, and to continue the work of Julia Donaldson, her predecessor in the role, in supporting public libraries.
Malorie has been a regular, firm favourite at the Edinburgh International Book Festival for many years. You can listen to a recording of her 2009 event, when she read from Double Cross and described how her real life experiences influence her writing, on our website.
More articles