More articles Wednesday 17 August 2016 5:10pm
Man Booker Prize Nominee A L Kennedy Entertains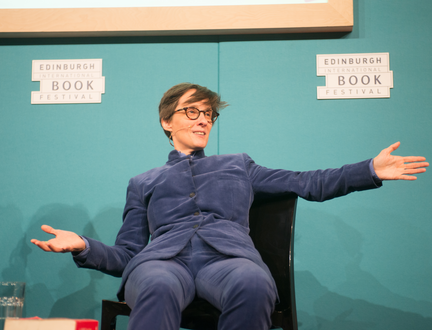 A L Kennedy began her packed event at the Book Festival today like a consummate stand-up: sharp, suited, self-deprecating, and hilarious. She stood up, ruffled her wayward quiff ("I fell asleep with my hair wet last night"), and addressed her audience directly, homing in on one individual. "Even when the tent isn't here, you're here," she laughed. "It's been 25 years!" It was a revealing joke: few novelists inspire such unwavering and intense loyalty as Kennedy, Costa winner, two-time Granta Best Young British Novelist, creative writing tutor, journalist, comedian, and chronicler of our times.
On typically arch and penetrating form, she read three short extracts from her latest critically acclaimed novel, Serious Sweet, a love story set over a single day in contemporary London. Or, as Kennedy put it, a book about "two people trying to have lunch". The first was a painfully funny and swear-infested rant spewed from the mouth of Jon, a disillusioned civil servant in his fifties who, much like Kennedy one assumes, suffers from a surfeit of "absurdity-related aneurisms". The second was a blistering stream of consciousness as Kennedy assumed the character of Meg, a bankrupt accountant and alcoholic sitting alone in a restaurant getting drunk. Like so much of Kennedy's writing, it was direct, pained, and utterly authentic. It also featured her singing the line 'Plea-eee-eee-eee-eee-ease," from Gerry Rafferty's 'Stuck In the Middle With You'. Twice. "Brilliant!" a man in the audience shouted when she was done. "People always cry when I sing," she quipped afterwards.
The conversation that ensued between Kennedy and chair Viv Groskop revealed that the author, who has now left London for Wivenhoe on the Essex coast, spent a year looking for acts of kindness between strangers when she first arrived in the capital. "It changes how you think about people if you look for tenderness," she mused. Which, apart from anything else, led Groskop to call her "a Satanic Oprah". Kennedy explained that she loved the idea of writing a "squeezed book" set over 24 hours because she has always admired formal constriction: "submarine films, or the episode in a series where the characters are stuck in a lift". Das Boot, it seemed, was more of an inspiration than Ulysses.
Kennedy grew up in Dundee and spoke passionately about the influence of theatre on her as a girl and teenager. She recalled seeing Michael Gambon doing King Lear at the RSC ("there was no note in the programme saying that every other Lear after that would be s***") and talked about how Shakespeare, when done properly, "gets you in the spine". Theatre, she continued, is about "sharing extraordinariness and the belief that people are extraordinary". In this wonderful event, and increasingly in her novels, Kennedy seems to be advocating writing as a kind of caring. A reminder that she is one of Britain's most unflinchingly moral writers at work today.
Finally she spoke about the differences between the voice in her head, on the page, and on stage. Kennedy confessed to having a voice coach and a growing interest in the personal strength to be found in connecting body and voice. As for stand-up, in which she continues to dabble, she admitted that "I can't take myself seriously, being serious". Which is precisely what makes AL Kennedy such a serious writer.
More articles