More articles Tuesday 03 October 2017 10:00am
Man Booker Prize-winning Author Alan Hollinghurst in Book Festival Autumn Event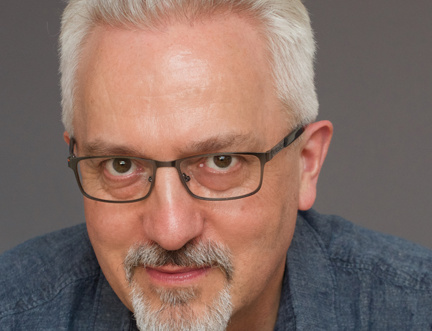 Next week, the Book Festival will welcome Man Booker Prize-winning author Alan Hollinghurst to Edinburgh for a special event. Appearing as part of the Festival's Booked! programme of year-round events, the highly respected author of novels including The Line of Beauty will introduce his latest work, The Sparsholt Affair. The event, which takes place on Tuesday 10 October at the Pleasance Theatre, will be chaired by BBC Scotland's Serena Field and is Hollinghurst's only Scottish date as part of his current book tour.
Book Festival Director, Nick Barley, said "It is a great honour to welcome Alan Hollinghurst back to Edinburgh to launch The Sparsholt Affair. Alan is unquestionably one of Britain's most accomplished writers and this new novel is a beautifully-constructed story of two generations of a family named Sparsholt, pivoting around the decision to legalise homosexuality in England and Wales in 1967. Although Scotland's laws didn't follow suit until 1981, this novel charts a post-war shift in attitudes which has had a huge impact on lives everywhere in the British isles.
Following a wonderful event with Turkish author Orhan Pamuk in September, I'm thrilled that we can continue to offer audiences the chance to meet world-renowned writers not just at Festival time but throughout the year, thanks to the support of players of People's Postcode Lottery."
Alan Hollinghurst is one of Britain's finest writers – a novelist, poet and short story writer, he has won the Somerset Maugham Award, the James Tait Black Memorial prize and the 2004 Man Booker Prize. The Sparsholt Affair is his long-awaited sixth novel. Opening in 1940, two young men begin studying at Oxford University knowing that a call-up to the war is only 12 months away. It's a prospect that inspires new freedoms and recklessness, and leads to actions that will impact for years to come. Hollinghurst takes us on a remarkable journey through post-war society all the way to the present day exploring Britain's social, sexual and cultural changes, asking questions of where and who we are today.
This special Book Festival event with Alan Hollinghurst follows an appearance by Nobel Prize-winning Turkish author Orhan Pamuk in September and a hugely successful summer for the Book Festival, which saw 1,000 authors, illustrators, poets, politicians and performers from across the world appear; in a year when audience numbers were the highest in the Book Festival's 34 year history.
Alan Hollinghurst will speak at the Pleasance Theatre, Edinburgh on Tuesday 10 October at 7.00pm. Tickets for the event cost £15.00 (£12.00 concession) and the Book Festival are also offering £5.00 tickets to students with a valid student card. Tickets are available through the Book Festival website or by calling 0131 718 5666.
Booked!, the Edinburgh International Book Festival on the road around Scotland throughout the year, is supported by players of People's Postcode Lottery.
More articles