More articles Sunday 14 August 2016 2:00pm
Mervyn King Speaks at Edinburgh International Book Festival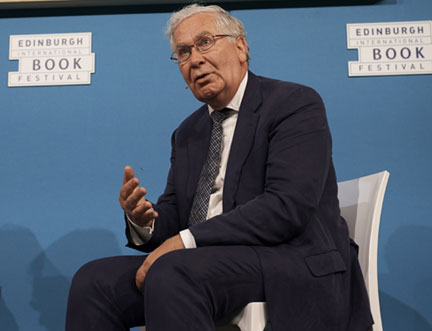 Lord Mervyn King offered a withering critique of economists, bankers and politicians at the Book Festival yesterday. The former Governor of the Bank of England said responses to both the financial crisis of 2008 and current problems for the global economy represented nothing short of "a failure of ideas".
King offered a deep and detailed analysis of the state of the British and international economies. Discussing his turbulent time at the head of Britain's central bank, he said "no one really believed boom and bust was over", and indicated that a reference to the 1990s as the NICE decade in his maiden speech as Governor was meant as a warning of future nastiness.
In the wake of the global recession, King asked "why is the world unchanged?" Speaking with BBC Scotland Business and Economy Editor Douglas Fraser, he lamented that global cooperation in response to the crisis had collapsed by the end of the following year. "What we desperately need is international leadership", King said, outlining his vision for global economic rebalancing led perhaps by a less political IMF. This, he suggested, is the only way to avoid future crises.
"The correct diagnoses are not being made by central banks", which are in his view "peddling up a hill that's getting steeper" by repeatedly cutting interest rates. Conceding that the plan outlined in his book The End of Alchemy offered short term pessimism and potential pain, a plan to charge banks an 'insurance premium' in stable years and cancel repayments on some debt would provide 'long term optimism', and end the market-moving fear of a run on banks.
King finished his session at the Book Festival with two comments on other big issues facing modern Britain; joking that a currency devaluation in the wake of Brexit meant "the British did in a day" what Central Banks had tried for years to achieve. He went on to say that any future independent Scotland would be wise to keep the pound, stating that the creation of a new currency would make the nation "a hostage to fortune".
The End of Alchemy is available now from our independent bookshop in Charlotte Square Gardens.
More articles