More articles Monday 20 August 2018 3:00pm
Mr Arsenal's 2010 offer to help his old club was knocked back – which he took as a compliment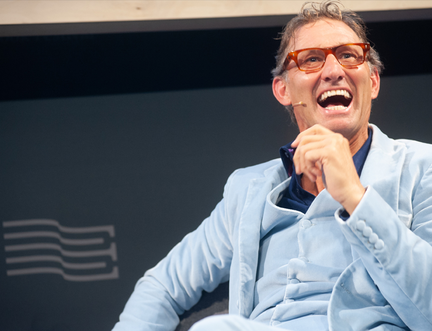 When Tony Adams offered to return to Arsenal, the team he had captained to four league titles, as a coach in 2010, no one – especially not the then manager Arsène Wenger – got back in touch.
Speaking last night at a sold-out event at the Edinburgh International Book Festival, Adams said: "Arsène's not very approachable; Alex Ferguson… he'd come off the training pitch to take a phone call from me. With [Wenger], you'd never ever get a call back, he's very aloof. I honestly feel that, when I offered my services in 2010, they should've taken it. But I think he was a little bit scared.
"I'm not a 'Yes Man'; I can't keep quiet when I see something that's going wrong. I think Arsène was going through a tricky period at the time, and he didn't want someone like me there, putting more pressure on him, maybe? I took it as a compliment; I just wished he had phoned me and actually told me. A little bit of respect, that was all I was asking for. He handled it poorly; all of them did, really."
Adams was attending the Book Festival to discuss his new book, Sober, which covers his recovery from alcohol addiction and his glittering playing career. Speaking with former Scottish footballer Pat Nevin, against whom he played on numerous occasions, Adams repeatedly referred to himself as an addict, despite it being 22 years since he last touched a drop of alcohol.
"The denial is really strong in us. We're cheats. We're liars. We'll come up with a reason," he said. "I used to drink eight pints of Guinness on a Thursday night, playing snooker. [But] that's not drinking; that's playing snooker. We can be very devious."
Adams believes that you're three times more likely to be susceptible to addictive behaviour if you're an athlete. Certainly, his success as a player didn't help matters. "I had huge ego but low self-esteem, low self-worth. I used to smash bottles on my head. I didn't like myself: I had a big nose, big ears, was a gangly six foot three. Uncomfortable; hyper-sensitive; couldn't speak. I pulled all my problems, put them in a box, buried them as deep as I could. Then I suppressed them in football, or suppressed them in alcohol—those were the two crutches I used until I sobered up at 29."
Apparently, there's just one niggle now from his playing days. When asked by an audience member what his favourite goal was, he explained that his official tally is 49… but it should have been 50. Back in 2000, the Cameroon player Lauren had just joined Arsenal and, on his debut, scored a goal. "Actually, it hit me and it went in, and it's my goal," Adams said. "Well, it wasn't my bag to score goals, and I didn't really care at the time – I said 'give it to Lauren' – but now, cause I've got 49…"
More articles