More articles Tuesday 27 October 2015 9:00am
Mull Author Colin Macintyre Wins First Book Award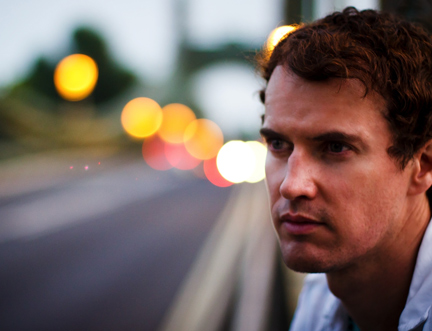 Scottish author Colin MacIntyre is the winner of the 2015 Edinburgh International Book Festival's First Book Award with his debut novel The Letters of Ivor Punch, published by Weidenfeld & Nicolson. MacIntyre, who is no stranger to storytelling having risen to fame as the singer and musician who performs as Mull Historical Society, drew on his childhood roots setting his first published novel, which is a beguiling tale of secrets and sadness with a keen sense of place, on a remote Hebridean island.
MacIntyre said "I am absolutely thrilled to be the recipient of the 2015 Edinburgh International Book Festival's First Book Award. I had a wonderful time appearing at the Festival this year and would like to thank everyone involved for this very exciting honour, as well as my publishers W&N Books, my agent James Gill, and extra special thanks to everyone who voted for my novel."
Colin MacIntyre is an award-winning musician who has released 6 albums to date, including two top twenty albums under the name Mull Historical Society. He has been voted Scotland's Top Creative Talent, and has toured worldwide with acts such as The Strokes, Elbow and REM. MacIntyre grew up on the Isle of Mull and now lives in London.
Our First Book Award encourages audiences to discover the wealth of debut fiction featured in the Festival Programme each year and vote for their favourite. Every one of the 56 adult and young adult writers who brought their debut novel, novella or short stories to Edinburgh in August, including those whose work was published in English for the first time, was eligible for the Award. Readers and Book Festival audiences were able to vote at the Festival or online and over 2,500 votes were received by the closing date. Every book eligible for the Award received at least one vote.
Nick Barley, Director of the Edinburgh International Book Festival, said "As a songwriter, Colin MacIntyre seems always to have been a natural storyteller. Perhaps it was only a matter of time before he turned his abilities to the longer form of the novel. It is fitting that the man best known as Mull Historical Society has crafted a story to which he has put his own name, yet it is a novel which owes so much to his roots on the island of Mull. Such powerful storytelling resonated strongly with readers at the Book Festival, making Colin a runaway winner in voting for the First Book Award."
The Letters of Ivor Punch introduces a pioneering female travel writer, two fatherless boys and a man who, quite literally, fell from the sky. At the centre of it all sits the figure who links the past to the present – the irrepressible, unforgettable Ivor Punch – who will not be taking his secrets to the grave. He's going to share them with a departed relative, with President Obama, and with everyone in between.
The authors eligible for the 2016 First Book Award will be announced in June 2016. See details of all nominees for this year's First Book Award.
More articles