More articles Tuesday 17 July 2012 3:15pm
Multi-award-winning novelist China Miéville takes on The Future of the Novel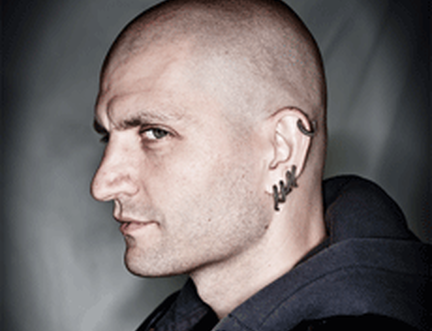 We are delighted to announce that the renowned science-fiction and fantasy writer China Miéville will deliver the final address of the Edinburgh World Writers' Conference and lead the following discussion in an event which promises to be one of the highlights of the Book Festival. Miéville takes to the Book Festival stage to talk about The Future of the Novel, with Danish novelist Janne Teller in the moderators chair, on Tuesday 21 August at 15.00.
BUY TICKETS FOR CHINA MIÉVILLE'S EDINBURGH WORLD WRITERS' CONFERENCE EVENT
The Edinburgh World Writers' Conference is an ambitious programming partnership between the Edinburgh International Book Festival and the British Council comprising of a series of public discussions which will take place from 17-21 August at the Book Festival, stimulating a debate which will reverberate around the world. Inspired by the seminal 1962 Writers' Conference in Edinburgh, it brings fifty leading Scottish and international writers together over five afternoons, alongside a public audience, to discuss how writing and the imagination are an essential component of society.
The Writers' Conference events take place daily from 17-21 August from 15.00 to 17.00.
BROWSE AND BUY TICKETS FOR EDINBURGH WORLD WRITERS' CONFERENCE EVENTS
China Miéville is theauthor of ten novels – as well as short stories, comics, non-fiction, a roleplaying game, and academic writing on law and ideology. He is three-times winner of the prestigious Arthur C Clarke Award and has also won the British Fantasy Award twice. He is often billed as a genre-busting science fiction writer but in truth he's impossible to categorise – he is fond of describing his work as "weird fiction". The City & The City, an existential thriller, was published to dazzling critical acclaim and drew comparison with the works of Kafka, Orwell and Philip K Dick. His previous novel, Embassytown, was also widely praised and Railsea, his latest, displays his gift for linguistic invention and is possibly his most enticing and compelling novel to date: "…a funny, far-reaching indictment of modern capitalism, with its dependence on growth, debt and ambition, as well as another joke about classic sea novels. It's a sudden but satisfying destination for a tale that you can also read as a meta-meditation on how to tell a story or build a world; as homage to Melville and Stevenson and other precursors, such as Daniel Defoe; or as a riveting ferronautical yarn". (Stephen Burt, NPR)
More articles