More articles Wednesday 14 July 2010 12:00am
New events announced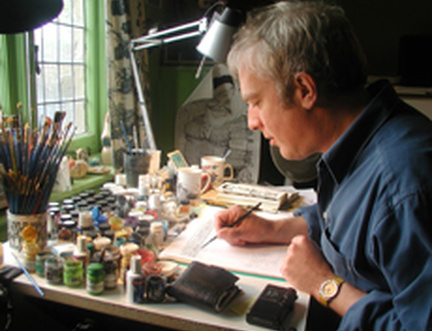 Legendary cartoonist Steve Bell, one of the Guest Selectors for the 2010 Edinburgh International Book Festival, has confirmed two new events in Charlotte Square Gardens in August. Credited by some as having destabilised the last Conservative government with his drawing of John Major with underpants over his trousers, Bell will be in conversation with Guardian cartoonist Martin Rowson on Monday 23 August and with V for Vendetta creator Alan Moore on Tuesday 24 August.
Bjarke Ingels, one of the rising stars of European architecture, has a reputation for cheekily shaking the foundations of the building industry. His practice, BIG, has published a playful cartoon manifesto entitled Yes is More, and Ingels will be discussing this, and the ideas behind BIG's astonishing work, on Monday 23 August.
Story Machines, the mini-festival curated by novelist and screenwriter Charlie Fletcher, examines how stories - myth, movie, market report or manifesto - are relevant in today's society. Authors now confirmed to appear in a series of events on Wednesday 25 August include: Iain Dale, William Nicholson, Don Boyd, Chris Young, MJ Hyland, Steven Poole and Alan Moore.
In the centenary year of legendary Scots poet Norman MacCaig, poet Don Paterson has invited two contemporary poets and friends, Douglas Dunn and Mandy Haggith to reminisce on the man and his work on Tuesday 17 August. On Thursday 26 August Ian Buxton will launch his new, straight-talking and highly informative book, 101 Whiskies to Try Before You Die identifying the whiskies that enthusiasts should sample to complete their education.
Mark Beaumont, the record breaking Scottish cyclist, will be in conversation with Paul Howard (replacing Dominic Gill) discussing Paul's journey on the Tour Divide, the longest mountain bike race in the world, on Friday 27 August. The Tour Divide is a 3,000 mile trek down the Rockies from Canada to Mexico which also involves a total ascent of 200,000 feet – the equivalent of scaling Mount Everest nearly seven times.
As always, box office sales for the Book Festival have been busy, however there are still tickets available for many of the 750 events in the programme including Fatima Bhutto, Vidal Sassoon, Garth Nix, Sophia Jansson, Louis de Bernières, Amartya Sen, Nicholas Parsons, Douglas Hurd in conversation with Alex Salmond, Carol Ann Duffy and Garry Trudeau.
Tickets for all of the above events are on sale either online (www.edbookfest.co.uk), by telephone on 0845 373 5888 or in person The Hub on Castlehill until Thursday 12 August and from Saturday 14 August in Charlotte Square Gardens. The Edinburgh International Book Festival runs from Saturday 14 to Monday 30 August 2010.
More articles