More articles Thursday 02 February 2023 10:30am
Nick Barley to step down as Director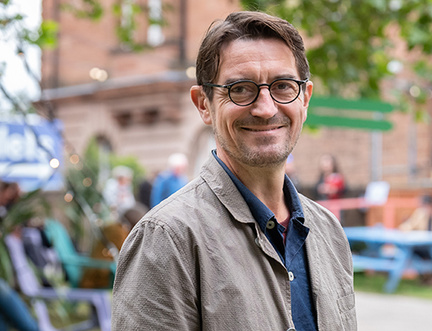 Nick Barley, Director of the Edinburgh International Book Festival will step down in September after successfully delivering 14 Festivals.
During his tenure Nick has brought world-renowned thinkers, writers, performers, artists and activists from countries across the globe to appear in Edinburgh – from Nobel Prize winners Maria Ressa, Amartya Sen, Joseph Stiglitz and Malala Yousafzai, to literary phenomena such as George RR Martin, Haruki Murakami, Elif Shafak, Hilary Mantel, Ocean Vuong and Colson Whitehead, writers who have captured the imagination worldwide.
Nick's innovations have included the free nightly festival Unbound, which attracted thousands of literature and music-lovers and saw performances from the likes of Nile Rodgers, Kristin Hersh, Willy Vlautin and Scotland's very own Fun Lovin' Crime Writers, as well as newer talents who have gone on to become stars of the Scottish scene.The ambitious new project Outriders, in which Scottish writers such as Kayus Bankole, Jenni Fagan, Harry Josephine Giles and Nadine Aisha Jassat teamed up with locally-based authors to make journeys across Africa, America and Europe was another creative addition; and Playing With Books, in which novels such as David Keenan's This Is Memorial Device, Ali Smith's How to Be Both and Miriam Toews's Women Talking, inspired innovative theatre productions.
Under Nick's leadership, the Book Festival has become a place for wide-ranging conversations about books, ideas and stories, shedding light on important issues including class, society, the economy, race and politics.
Nick said: "Overseeing this great festival has been both a privilege and a challenge. As well as helping maintain Edinburgh's role as a global capital for culture, I have aimed to create a festival that is full of joyful encounters: a forum for thoughtful conversations between writers and readers. I'm particularly proud to have been able to build on the festival's strength and reputation during the devastating pandemic period, giving people all over the world continued access to the quality of discourse for which we are rightly celebrated. It's been an honour to work with such a stellar team: the festival is so much more than its Director and the team is primed to work with my successor on the next phase."
Nick will remain in post until the 2023 Edinburgh International Book Festival has been delivered (running from the 12 – 28 August 2023). The successful applicant will take up the post in September 2023. Recruitment will begin in mid-February in collaboration with industry specific recruitment specialists AEM International. For more information on AEM International visit: https://www.aeminternational.co.uk/
Allan Little, Chair of the Edinburgh International Book Festival Board, said: "On behalf of the Book Festival Board, I would like to extend our heartfelt thanks to Nick for steering the festival through both exhilarating and turbulent times, and for leaving it in such robust good health for his successor. Nick had led the organisation to its position as one of the most recognised and respected literary festivals in the world and recent circumstances might well have proved insurmountable without someone of Nick's experience and passion at the helm. While we will miss him, we wish Nick all the very best and know he will continue to be a friend of the Book Festival for many, many years to come."
Press enquiries: Sarah Drummond: 07741 316934 / sarah@thecornershoppr.com
More articles