More articles Saturday 19 August 2017 9:30pm
Novelist Zadie Smith Reveals She is to Publish a Collection of Short Stories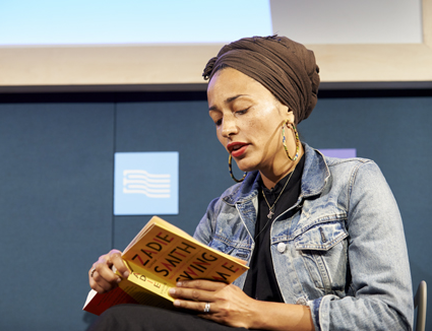 Novelist Zadie Smith has revealed she is to publish a collection of her short stories, having grown "more confident" about writing them.
Asked why she had not already done so, Smith replied: "Actually, I think I'm about to…I just never felt very good at it. It's different from America, where people are trained from a very early age to read short stories, to be preoccupied by them, to create these perfect forms. I always thought mine were a bit like a novel squished into a short story, so I found them a bit ungainly, and also way too long.
"But over time there are now quite a collection of them, so I think I will collect them and maybe add a few more. I've become a bit more confident in doing them, partly probably because of America, and reading so many, and being involved in these journals like the New Yorker and New York Review [of Books]."

Smith was speaking at the Book Festival tonight about her most recent novel, Swing Time, and also her career, which has taken her from a North London comprehensive to a tenured position at New York University where she teaches creative writing. Event chair Stuart Kelly asked how she combined the two cities (and countries) in her writing.
"It's a bit schizophrenic," Smith told a sell-out crowd. "I really never sat down with the intention aged 22 to write some endless epic series of novels set in Willesden, that was not the dream of my life, but a lot of fiction is subconscious, that's something you realize with age: you return to things that you don't even particularly want to return to, but you go there anyway.
"So, part of it is a preoccupation for sure, although I imagine with this one [Swing Time] it's pretty much over. And then the American side is just a fascination with the form there, a completely different kind of technique and particularly the magazines, the literary magazines, which made a big impression on me when I went over. So, a lot of the stories I've written in the past decade have been American-based, like [I am] inching a toe in the water to a completely different voice."
Smith also revealed that she found it "very hard" to write about violence. "My novels don't really fit that action," she said. "I have a hard time with that kind of brutality, but I really admire it in other people's fiction, I really admire fiction that is able to encompass those kind of acts, 'cause they're very hard to write about. It's like a glare or something, it's so bright that it's hard to see clearly through it."
And asked about the importance of an author's race, Smith said she did not "aim to be colour blind" in judging a writer's work. "To me, specificity is beauty," she said, "I love exactly that. I love the Evelyn Waugh-ishness of Evelyn Waugh…that matters to me, not this kind of blind 'oh, it's just good, it's so good, I didn't even see her colour'. No, I want you to see my colour, it's important, this is who I am. That has to be seen and discussed."
More articles