More articles Tuesday 08 August 2017 10:00am
Orhan Pamuk and Alan Hollinghurst Announced for Autumn Events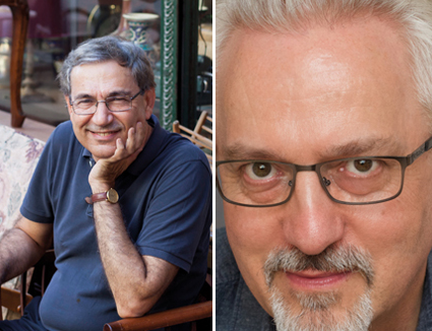 Today, we've announced two new events for Autumn 2017 as part of our Booked! programme. On Sunday 17 September, the Book Festival will welcome the Nobel Prize-winning Turkish author, Orhan Pamuk, to discuss his latest novel, The Red-Haired Woman and Man Booker winner Alan Hollinghurst introduces his long-awaited sixth novel The Sparsholt Affair on Tuesday 10 October. Booked! is supported by players of People's Postcode Lottery.
Book Festival Director Nick Barley said "We are thrilled to welcome these two world-renowned novelists to Edinburgh this autumn. As well as expanding our Festival into George Street this summer, we are also extending our reach with these two high profile and exciting events in September and October thanks to the support of players of People's Postcode Lottery."
Orhan Pamuk, who won the Nobel Prize for Literature in 2006, is one of the world's greatest writers, bringing Turkey to the forefront of our literary imaginations and will be making a rare appearance and his first at the Book Festival since 2001. From the IMPAC-winning My Name is Red to his recent Man Booker International Prize-shortlisted A Strangeness in My Mind, his work investigates the complex relationship between East and West. His latest novel is set in his beloved Istanbul where a master well digger and his young apprentice form a simple life sharing their days, meals, and stories. Until the arrival of a travelling theatre company, and a beautiful woman, opens up new dreams and possibilities that will ultimately lead to devastating consequences.
Alan Hollinghurst is one of Britain's finest writers – a novelist, poet and short story writer, he has won the Somerset Maugham Award, the James Tait Black Memorial prize and the 2004 Man Booker Prize. The Sparsholt Affair is his long-awaited sixth novel. Beginning in 1940, two young men begin studying at Oxford University knowing that a call-up to the war is only 12 months away. A prospect that inspires new freedoms and recklessness, and leads to actions that will impact for years to come. Hollinghurst takes us on a remarkable journey through post-war society all the way to the present day exploring Britain's social, sexual and cultural changes, asking questions of where and who we are today.
Orhan Pamuk will speak at the Edinburgh International Conference Centre on Sunday 17 September at 3.00pm and Alan Hollinghurst will speak at The Pleasance Theatre on Tuesday 10 October at 7.00pm. Tickets for both events cost £15.00 (£12.00 concession) and are available on our website at www.edbookfest.co.uk or by calling the Box Office on 0131 718 5666. Tickets can also be purchased from the Book Festival Box Office in Charlotte Square Gardens from Saturday 12 to Monday 28 August.
Clara Govier, Head of Charities at People's Postcode Lottery, said: "I am delighted that funding from players of People's Postcode Lottery is supporting Edinburgh International Book Festival in the expansion of their Booked! on-the-road programme. These two new events are a very exciting addition."
Booked! is the Edinburgh International Book Festival on the road around Scotland throughout the year and is supported by players of People's Postcode Lottery.
More articles