More articles Monday 10 August 2020 11:00am
Our New Bookshop is Now Online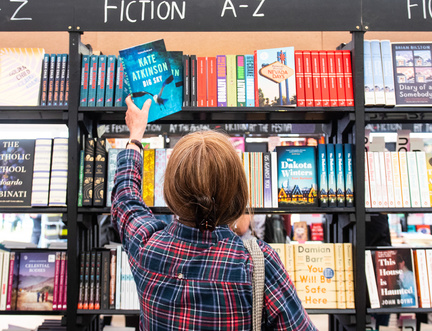 The Bookshop offers titles from every author in the 2020 programme and showcases a range of books from Scottish publishers. As well as searching by genre and title, you can also browse by events in our programme, making it easy to find the books you'll hear discussed during the Festival. Visit shop.edbookfest.co.uk to browse and buy, or click the Bookshop button on the video player pages which will take you straight to relevant bookshelf in the Bookshop.

You can can also secure one of a small number of places in our innovative online book signing sessions with authors, see featured titles highlighted by our Festival sponsors, and explore books by a wide range of publishers from Scotland. Each year for the month of August we become the UK's largest independent bookshop and our titles are selected and presented by a team of experienced booksellers. The proceeds from purchases made from our new online bookshop go directly into supporting the Book Festival, our authors and our publishers, enabling us to continue to bring world class book events to Edinburgh and the world.

Online Book Signings

We're really excited to offer face-to-face online book signing sessions (via Zoom) with selected authors directly after their Festival events when you buy a copy of the featured book. You'll get the option to join the booksigning when buying the book. Signings are limited to 50 places per author and will be allocated on a first come, first served basis.

If you would like to join a signing please select the 'Meet the Author' option when purchasing a book. You will then be prompted for the details of any dedication required. Your place will be reserved for one hour to allow you to browse the bookshop further and your link to join the signing session will be sent to you after you complete your purchase. Please note not all books will offer this option.

Due to the logistics involved the last opportunity to reserve a spot will be 5 days before the date of a given signing.
For more information and to see the featured books and authors, visit shop.edbookfest.co.uk/online-book-signings-2020
More articles