More articles Friday 01 January 2010 12:00am
Programming update from Oz by director Nick Barley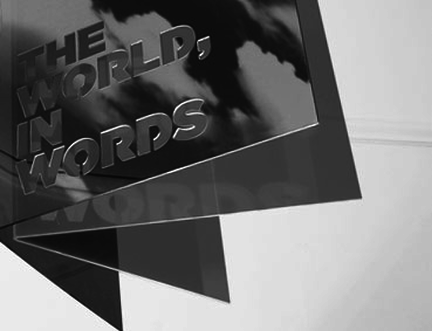 A small propeller plane flies low over the beach, tracing the line where the Indian Ocean meets the vast landmass of Western Australia. The advertising banner that flaps along behind it reads 'Rossi Boots – 100% Aussie' and it's a thought-provoking claim, given that British migrants such as Arthur E Rossiter, bootmaker, only settled here just over 100 years ago
A small propeller plane flies low over the beach, tracing the line where the Indian Ocean meets the vast landmass of Western Australia. The advertising banner that flaps along behind it reads 'Rossi Boots – 100% Aussie' and it's a thought-provoking claim, given that British migrants such as Arthur E Rossiter, bootmaker, only settled here just over 100 years ago. I'm fortunate to be here in Perth in the blazing late-February heat courtesy of the Australian Literature Council, not to think about bootmakers but to meet authors at Perth Writers Festival. As the train trundles from the beach through the suburbs to the city centre, I notice the station names - Loch Street, Daglish, Stirling, Queen's Park. Perhaps, then, I should not be surprised at the rapturous reception given to Irvine Welsh at his festival event that evening. An audience of around 300 whoops and cheers as he swaggers onto the stage. Here, in one of the remotest big cities on earth, Welsh conjures up a reading from his collection Reheated Cabbage and of this there can be no doubt: the main character is 100% Leith.
Welsh himself is in good form afterwards, sending his warm regards to the Edinburgh International Book Festival and saying he hopes to fly over from Chicago in 2011 when his Trainspotting prequel is published. In the Green Room another literary Scot, William Dalrymple, is holding forth about life in India, while next to him I talk with the Pulitzer Prize-winning journalist David Finkel, author of a deeply affecting chronicle of US soldiers in Iraq. Some of his stories are almost unbearably moving and I wonder how Finkel has kept his sanity, given the horror of what he's witnessed.
Encountering these writers is a privilege, but the real purpose of my visit is to meet Australian authors who are not yet known outside their home country. I am keen to see whether we can find space for independent publishers such as Text, Scribe or Sleepers, and their stables of writers who include aboriginal as well as white authors. I have a feeling that these writers' interests in identity, belonging, love and loss might be just as interesting to a European audience as they are to Australian readers.
What shines out most clearly from this trip is just what a good reputation our own Book Festival enjoys. Authors and publishers from Australia constantly come up to me, keen to offer copies of their books in the hope that they can appear at what many of them describe as 'the most important Writers' Festival in the world'. It's a similar experience a few days later at Adelaide Writers' Week, where big names including Andrea Levy, Audrey Niffenegger and Richard Dawkins are in attendance alongside a host of other Australian and New Zealand authors.
I am convinced that our Festival is held in such high regard because it embraces internationalism. Just as our own great writers underline Scotland's strong claim to be a 'book nation' whenever they travel to festivals abroad, so we can continue to nurture understanding at home by listening to stories from elsewhere. One example is Nicolas Rothwell, a writer living among the aboriginal people in the very remote north of Australia. He explains to a spellbound audience that despite witnessing the fall of the Berlin Wall and reporting from Baghdad during the invasion, nothing has affected him more profoundly than the existential terror of being alone in the deep bush landscape in the remote northern parts of the country. I think of St Kilda and ask myself whether the world's liminal places have something important to tell us about finding a sustainable relationship with our planet. And it strikes me that there are few places better to consider such questions than at a book festival.
More articles