More articles Tuesday 16 May 2017 4:30pm
ReimagiNation: Cumbernauld - A New Festival for a New Town This Weekend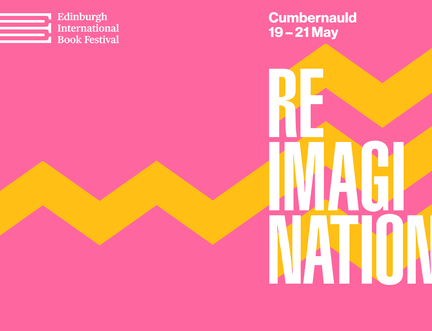 The Book Festival's new Festival –
ReimagiNation: Cumbernauld
– is just a few days away. The Festival, which runs from Friday 19 to Sunday 21 May is the first in a five-stop tour of Scotland's New Towns in 2017 and 2018 and offers great events, fascinating writers, brilliant books and plenty of experiences for all ages to enjoy.
ReimagiNation is all about sharing stories, memories, passions and fears. You can come along to tell your own tales of Cumbernauld or
hear the past and future stories of the town
from participants of CACE Older People Active Lives and pupils from four local primary schools; you can take part in a
free debate about Cumbernauld's future
or simply share your thoughts on books in one of the reading workshops taking place in the Penthouse Flats. There are plenty of opportunities to contribute to the discussion.
For families, there are four brilliant children's authors taking to the stage on Saturday morning in the
Big Book Bonanza
, telling stories and jokes in a tall-tales jamboree, each vying to be funnier, scarier or more fantastical than the others. Cumbernauld-born storytellers
Macastory
take a lively song and story trail through the Town Centre;
Eilidh Muldoon
invites families to join her in building their own version of the Carbrain Totem and children of all ages can join free workshops to make their own
short animation using Lego
or
learn to play the ukulele
.
Audiences can revel in thrilling crime fiction events with
Denise Mina
and
Graeme Macrae Burnet
or spend a delightful hour in the company of former Scots Makar
Liz Lochhead
. You can enjoy Sunday afternoon tea with foodie and novelist
Sue Lawrence
; join a walking tour with local historian
Diane Watters
or see the stunning images of acclaimed photographer
Chris Leslie
as he and Johnny Rodger explore
Disappearing Glasgow
.
Tickets for all events are available to book online, by phoning 01698 274 545 or in person at Cumbernauld Library and Motherwell Concert Hall (Mon – Fri, 9am – 4.45pm). Most tickets cost £5 (£3.50 concessions) and there are a number of free events. To find details of the full programme for ReimagiNation: Cumbernauld please visit
https://booked.edbookfest.co.uk
ReimagiNation marks 70 years since the New Towns were designated, helping to shape a Scotland for the future in the wake of the Second World War. ReimagiNation is part of Booked!, the Edinburgh International Book Festival on the road around Scotland throughout the year, supported by players of People's Postcode Lottery, and in Cumbernauld is produced in partnership with Culture NL.
More articles