ReimagiNation: Glenrothes Hailed a Great Success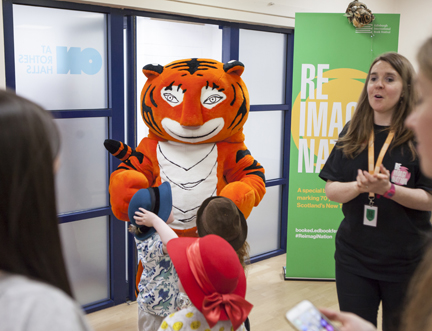 ReimagiNation: Glenrothes, presented by the Book Festival in partnership with Fife Cultural Trust, took over the Rothes Halls last week welcoming pupils from primary and secondary schools from across Fife, sold out audiences for Fife's own Queen of Crime, Val McDermid and for author and TV presenter Sally Magnusson, and a riotous end to it all with a performance from the Fun Lovin' Crime Writers. See a selection of photos from the festival on our Look & Listen page.
Other popular appearances included football pundit Archie Macpherson, Judy Murray and a celebration of 21 years of Harry Potter. A special interactive tea party featuring The Teeger that Cam for his Tea for people with profound and multiple learning disabilities, created in collaboration with PAMIS, welcomed adults and carers from across Fife, and Macastory presented their alternative history of Glenrothes to enthralled children on all three days. With free activities in the Kingdom Shopping Centre, displays from the National Library of Scotland and Recoat Design and a pop-up Waterstones bookshop, there was a lot going on.
MSP Jenny Gilruth popped in to have a look around and members of Fife Council joined Glenrothes residents and visitors alike in both the Tales of Your Town and the Debate: Glenrothes – A New Day? events, where everybody participated in the discussions about the past, present and future of the town. Tales of Your Town featured the words of the Glenrothes residents, members of WalkOn and the local Breathe Easy group and pupils from Auchmuty High School who had participated in the ReimagiNation: Glenrothes residency project led by people's historian Daniel Gray.
Janet Smyth, Book Festival Programme Director, said "The warmth and enthusiasm of the Glenrothes audiences were such a delightful part of the festival. Their pride and love of the town was impressive and came out in both the debate and our celebration of the work of the residency project. The professionalism and support of all the staff of Fife Cultural Trust, particularly at the Rothes Halls, was hugely appreciated and the excellent facilities meant that every event was delivered to the highest standards. We're now hoping to see some familiar faces from the Kingdom at Edinburgh International Book Festival in August!'
Heather Stuart, Chief Executive of Fife Cultural Trust: "It was a joyous weekend for Fife Cultural Trust, Rothes Halls staff and we hope for the people of Glenrothes too – thousands turned out from near and far to get involved. What better way to celebrate such a milestone anniversary than with this cross-generational festival. There were so many stories, personalities and perspectives on what the town is, was, and could be in the future. We hope that ReimagiNation continues to inspire debate around the town in the coming months and years. A huge thank you to the Edinburgh International Book Festival for bringing this fascinating series of talks, events and concerts to Glenrothes – and to our own staff for helping execute them all."
Thanks to the support of an anonymous benefactor, every primary and high school pupil attending an event at the Festival received a free book. Over 2,000 free books were handed out over the two days of the Schools Programme and authors including crime writer Chris Brookmyre, illustrator Tom Morgan-Jones and teen-thriller writer Dan Smith had long signing queues as pupils waited patiently to meet them.
The culmination of the ReimagiNation project, which has involved all five of Scotland's New Towns, will form a series of events in this year's Book Festival programme in August. Full details will be announced at the programme launch on Thursday 7 June.
ReimagiNation: Glenrothes was part of the Book Festival's Booked! programme of events which is supported by players of the People's Postcode Lottery, and the fourth of a five-stop tour of the Scottish New Towns, marking 70 years since the passing of the Scottish New Towns Act and in June 2018 the 70th anniversary of Glenrothes itself. ReimagiNation: Glenrothes was produced in partnership with Fife Cultural Trust.
More articles