More articles Friday 20 May 2011 12:00pm
Scottish Book of the Year award: who wins? You decide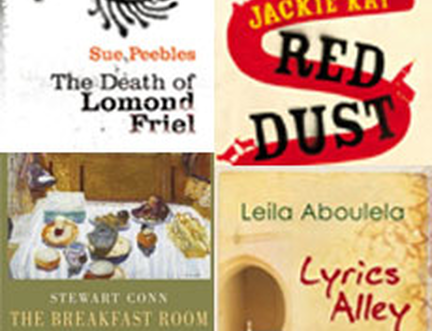 The shortlist for the Scottish Mortgage Investment Trust Book of the Year award has been unveiled and this year the winner will be chosen by readers and book lovers in a public vote.
The awards, which are run in partnership with Creative Scotland, were established over thirty years ago to recognise the very best in Scottish writing and are now one of the biggest literary prizes in Scotland.
This year's shortlist features some top quality writing talent and is made up of the winners from each of the four prize categories. Leila Aboulela won the Fiction category with Lyrics Alley, an evocative and accomplished portrait of Sudanese society at the time of independence. The top prize in the Poetry category was awarded to Stewart Conn for his collection The Breakfast Room, the title poem of which is his response to Pierre Bonnard's painting of the same name. Sue Peebles came first in the New Book category for The Death of Lomond Freil, which charts the complex emotional terrain of a successful woman whose father has been struck down by a stroke. Peebles was also in the running for our inaugural Readers' First Book Award at last year's Book Festival. And Book Festival regular Jackie Kay is in the running for her memoir Red Dust Road, a brave and heart-warming account of her journey towards finding her birth parents, which topped the Non-fiction category.
These four writers are now in with a chance of winning the Scottish Book of the Year award which, for the first time ever, is being decided by a pubic vote. To find out more about the shortlisted authors, and how to cast a vote for your favourite, visit the awards website. The winner of the £25,000 prize will be announced during a very special event at the Edinburgh International Book Festival in August. Further details about the event will be available when our programme is launched on 16 June. Keep an eye on our website to find out more.
More articles