More articles Wednesday 25 April 2012 3:50pm
Story Shop leads to publishing success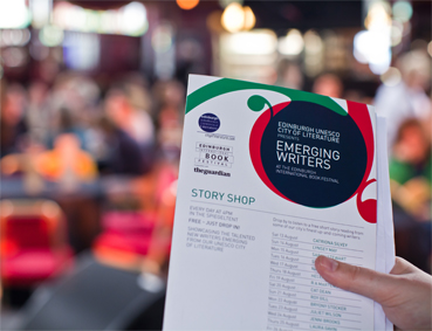 Emerging Edinburgh author Angela Jackson is to have her first novel published following two successful appearances as part of Story Shop at the Edinburgh International Book Festival.
Story Shop, which is produced by the Edinburgh City of Literature Trust, is a showcase for new writing talent giving Edinburgh-based authors the opportunity to read their work on stage in front of a Book Festival audience in Charlotte Square Gardens.
Angela was a Story Shop participant in both 2010 and 2011. On her first appearance she read an extract from Take Two, a work in progress that has since evolved into her debut novel, The Emergence of Judy Taylor.
When asked what kind of impact Story Shop had had on her writing, Angela said that 'experiencing the response of a live audience to my work was a huge confidence boost'. She also confessed that being labelled as a Story Shop 'emerging writer' gave her the encouragement and impetus she needed to complete her book.
The Emergence of Judy Taylor will be published by Canvas, an imprint of Constable & Robinson, in April 2013, but you can read an extract now on Angela's website.
Story Shop will return to the Book Festival once again this year, giving more emerging writers an opportunity to air their talent. If you're a new writer living or working in Edinburgh, it could be your chance to grace the Book Festival stage. Details of how to apply are on the City of Literature website.
More articles