More articles Wednesday 23 August 2017 9:20pm
The Last Poets Make Their First Appearance in Scotland at the Book Festival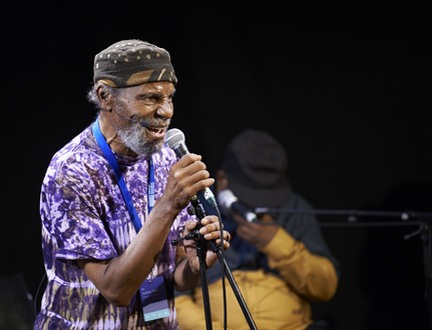 The Last Poets have spoken of their love for Scotland after a series of sell-out events at the Book Festival.
Umar Bin Hassan said he had had a "truly amazing" experience with "some very determined people". "You don't mess around with the Scots too much," he said, "you don't let too many people tell you what to do or how to do it, you're very rebellious – gangsters – but the beauty and humanity, I connected with you all."
And Abiodun Oyewole said he believed the "connection" came from "the fact that you guys have experienced having a foot on your necks like we've experienced in America, because the English stepped on you like Americans stepped on us and anytime you have those kinds of experiences it brings people together. We know what it's like to be stepped on, and we know what it's like to fight back."

Drummer Baba Donn Babatunde added simply: "Thank you for the whisky."
Visiting Scotland for the first time, The Last Poets performed at a sell-out event in the Book Festival's Baillie Gifford Schools Programme on Tuesday afternoon, to a capacity crowd for an Unbound event that evening, and at another sold-out event at the Bosco Theatre on Wednesday. The group was formed in the United States in the late 1960s when the Black Panthers were at the height of their power; their performance poetry influenced generations of musicians, securing them the title of "the founding fathers of hip-hop".
They were joined in all three events by Dutch author Christine Otten, whose book The Last Poets is based on their story.
More articles