More articles Sunday 21 August 2016 1:30pm
Trans Author Juliet Jacques Speaks at Book Festival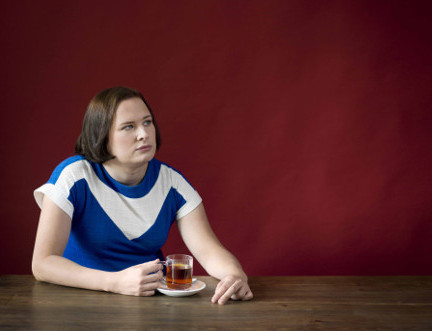 In recent years the level of interest in trans issues has exploded, something Juliet Jacques confessed she had not anticipated in her fascinating Book Festival event. Author of Trans: A Memoir and a long-running Guardian blog about her transition that was longlisted for the Orwell Prize, Jacques now finds herself in the sometimes uncomfortable position of being one of the UK's leading spokespeople on trans issues: since 2012 she has featured in the Independent on Sunday's Pink List every year.
This exposure has had both positive and negative effects. Jacques discussed the challenges of getting up close and personal with a mainstream media that, on both the left and right, has abused her community. "If you articulate an outsider critique well enough, you stop being one," as she puts it so perceptively in Trans. There were balances to be struck in the writing, too. When it came to her memoir, Jacques had to find a way to describe her gender reassignment surgery - which opens Trans - that both felt emotionally true, yet would not invite accusations of prurience. The structure became key: longer personal chapters interspersed with short, punchy essays on the hidden, unwritten and obscured history and culture of trans people. "I wanted to avoid the sensationalist before and after narrative of the way gender reassignment surgery is portrayed in the media," she explained. "I wanted to put the reader in my place."
Music, art, and football ended up playing as much a part of the discussion as gender. Growing up in Surrey under Section 28, it was the gender fluidity of artists such as David Bowie and lyrics by The Smiths that gave Jacques a sense of possibility. She spoke about her fascination with Justin Fashanu, the first black footballer to command a £1million transfer fee who came out to the press in 1990 and eight years later committed suicide. Jacques said she had attempted to write a book about Fashanu, whose death affected her greatly as a young queer person obsessed with football.
She also spoke eloquently about her decision to leave Twitter. "I got so self-conscious I couldn't say anything," she admitted. "I found it draining and addictive and it was changing my writing, taking me in directions I didn't want to go." Not to mention, Jacques added, that at football matches "I kept missing goals because I was always staring at my phone".
More articles