More articles Wednesday 16 August 2017 10:30pm
Veteran Broadcaster Allan Little Warns Against Cynicism About Journalism at the Book Festival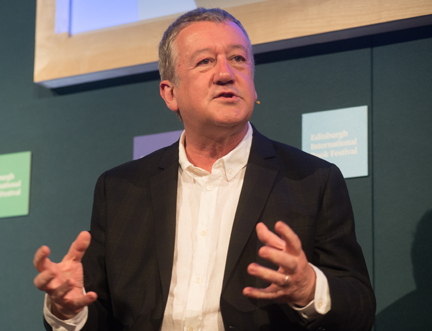 Veteran broadcaster Allan Little has warned that "tremendous cynicism" about journalism risks "throwing out something very valuable". Although he acknowledged the BBC "get it wrong sometimes", he defended it as a "robust" and "publicly accountable" public service.
"There is a culture in which people work very hard to get it right," he said at the Book Festival, "but you have to make judgements sometimes every hour of the day about what you include, and what you don't include. I certainly don't think it's about lying, deliberately subverting the truth; I've never seen an attempt to deliberately subvert the truth in the main broadcasters in Britain, but there's a tremendous cynicism, public cynicism now, and that cynicism is going to poison the well, and I think we might be in danger of throwing out something that's very valuable."
Little had been due to interview the Libyan-American writer Hisham Matar, but after he was no longer able to appear, the event instead saw Book Festival Director Nick Barley question the broadcaster about his long journalistic career, both at home and abroad.
Asked about the phenomenon of "fake news", Little said "we're seeing now very graphically that people quite often want to be told lies, a comforting lie, and it's really dangerous". He added that audiences had to "distinguish" between what was credible and untrue while broadcasters had to "be aware of our own cultural biases…the lens through which we see the world".
A member of the audience also raised the 2014 Scottish independence referendum, which Little covered for the BBC, while Nick Barley asked if he agreed with the novelist Andrew O'Hagan, who had earlier told the Book Festival that the United Kingdom had been "shattered" by Brexit. "I don't agree that the Union has been saved indefinitely for all time," commented Little, although he believed the "wind" had gone "out of the independence movement for now".
He added: "I think Brexit makes it paradoxically probably more likely that Scotland will resume some kind of independence movement, but [make it] much more difficult to become independent. The next time the question is put, there will be new problems for the independence movement to answer which weren't there in 2014, and as far as I can see our public discourse hasn't begun to address that yet."
Earlier, Little had recalled how the 1992 Bosnian War and death of his 25 year old cameraman had shaken his previous belief in journalism as a transformative force. On returning from an edit in Split, he was told his colleague had "been killed half about an hour after we'd left him, driving up the same road he and I had driven up unscathed the previous day."
After helping to retrieve his body, Little found himself "immersed in grief". "The previous night we'd been playing basketball…he was tall and handsome and athletic and his hand-eye co-ordination was effortless and he was laughing at us not being able to, and that's my lasting memory of him – twelve hours later he was dead.
"I wasn't able to work for weeks after that, but I knew I had to go back – I had a responsibility to go back – I couldn't abandon the war just because I was feeling miserable; I felt a burning sense of injustice and rage and wanted to go back and bear witness. I still believed then in the idea that journalism could be some kind of guiding light…the ground doesn't feel as solid beneath my feet anymore."
More articles