More articles Saturday 01 March 2014 12:00pm
What we did last year: the official Book Festival Annual Review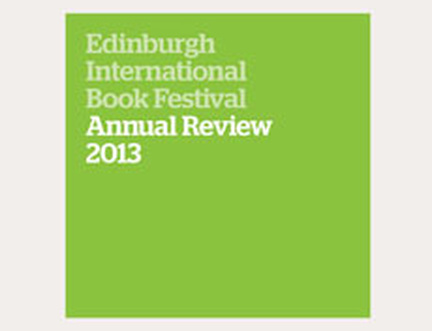 The official Annual Review for the 2013 Edinburgh International Book Festival has been published, neatly bringing together all of the highlights and key achievements of the year.
Our thirtieth anniversary year brought a bumper Festival with record-breaking ticket and book sales, glorious weather and a fantastically well-received programme.
Memorable moments included a performance by the revolutionary band Eskenderella who brought moving poems and songs right from the heart of Tahrir Square. Eleanor Catton, on the brink of becoming the youngest ever Man Booker Prize winner, with her book The Luminaries. 90 year old Judith Kerr who moved the audience to tears with tales of her late husband and her much-loved picture books. Our Stripped strand of events saw graphic novel and comics enthusiasts flock to Charlotte Square Gardens to see top names from the industry such as Joe Sacco and Chris Ware.
Topping the sales charts in our bookshops was Margaret Atwood's Maddaddam, closely followed by Neil Gaiman with his popular children's book, Fortunately, the Milk.
Charlotte Square Gardens was bustling in the sunshine. The 800 authors from 39 countries who appeared at the Festival were joined by around 225,000 members of the public who came along to see events, browse in the bookshops and spend time enjoying themselves in Charlotte Square Gardens.
For more highlights, facts, figures, opinions from authors and audience members and some stunning photography illustrating what we did last year, download our Annual Review.
More articles